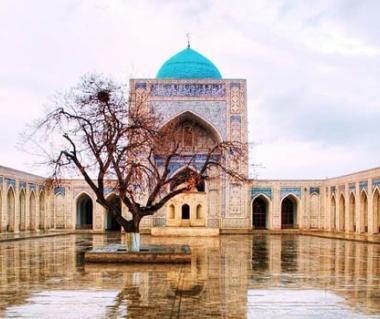 Uzbekistan Trip Planner
Plan your customized trip plan for Uzbekistan. Choose from Top Toursim cities and tourist attarctions of Uzbekistan using trip planner.
Uzbekistan Overview
Known for its mausoleums and mosques, Uzbekistan is one of the most beautiful countries in Central Asia. Formerly a Soviet Republic, today this country is surrounded by Tajikistan and Turkmenistan. In the ancient times, it was known the most for its prominence on the silk route- which connected China to the Mediterranean. The country boasts of Samarkand, one of the best cities in the world to witness the beauty of Islamic culture. Although it is landlocked, but it does have a southern shoreline accentuating its beauty even more.
Visa Procedure
The only citizens exempted from requiring a visa to Uzbekistan are passport holders of CIS countries. A letter of invitation is no more a requirement for the citizens of Austria, Belgium, Canada, France, Germany, Italy, Japan, Latvia, Malaysia, Spain, Switzerland, United Kingdom, and United States but is a mandate for most of the other nations. Check the official embassy to see whether you require a visa or not.
When to go
The best time to visit Uzbekistan is from April to June. The weather is extremely pleasant and you will also get great deals on accommodation as well as flight prices. July is also a cheap time to visit Uzbekistan but the summer heat gets unbearable at times. September to October is another pleasant time to plan out your trip to Uzbekistan.
Destinations to cover
When it comes to things to do in Uzbekistan, your list is mainly going to consist of exploring the Islamic architecture that adorns the corners of this country. While drawing out your Uzbekistan travel guide, remember to include:-
Registan-Formerly the heart of the ancient city of Samarkand which was one of the most prominent cities in Timurid dynasty.
Gur-e-Amir-A mausoleum of the ancient conqueror Tamer Lane.
Shah-i-Zinda–A necropolis in Samarkand.
Bibi-Khanym Mosque-Built in the memory of Timur's beloved wife, Bibi Khanum; this mosque is one of the most beautiful mausoleums in the world.
Samanid Mausoleum-A representation of transition from Zoroastrianism to Islam.
Ark of Bukhara-A massive fortress built around 5th Century A.D
Amir Timur Museum-Made in the memory of Mongolian warlord-Timur.
The cities to include in your itinerary are–Tashkent, Samarkand, Bukhara, Fergana valley, Khiva and Shahrisabz.
Get in and around
If you are thinking of how to reach Uzbekistan, then entering through the Tashkent airport is your best bet. Otherwise you can also enter by train via Kazakhstan. There are also trains that run to Moscow, Ufa, Saratov and Nukus on a regular basis. You can enter by train although it is higly advised not to do so. You can also enter through Kazakhstan, Tajikistan and Afghanistan when the land borders are open. You can use taxi to get around or buses and cars to get to different cities.
Hotels and Food
Tashkent and areas close to Samarkand have plenty of mid range as well as luxury accommodation options. Bu finding budget accommodation is not difficult at all. The dollar conversion rate is quite amazing, so a trip to Uzbekistan will be quite convenient. You should try out wine and kimiz as well. The food is decently priced, but the night life here is slightly more expensive than the day time restaurants. Most night life places are located in Tashkent. Remember to binge on Osh, Chuchvara, Somsa, Manti, Mastava, Shurpa, Lagman and Shashlik while you are here.
Searching for something specific?