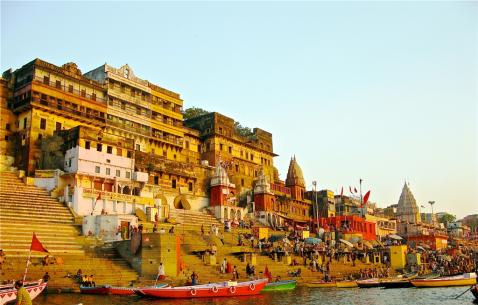 The Best Places To Visit in Varanasi
Spiritually inclined and culturally rich, the city of Varanasi has on offer a lot many things to do for the wanderer. To begin with, you just have to witness the grand Agni Puja at the Dashashwasmedh Ghat. Other you can visit include the Assi Ghat, the Harishchandra Ghat, the Narad Ghat and the Manikarnika Ghat.
If the chaotic serenity of temples fascinates you, Varanasi has plenty of them. The Kashi Vishwanath Temple, the Kaal Bhairav Temple, the strikingly red Durga Temple, the Bharat Mata Temple dedicated to the nation of India and the architecturally unique Nepali Temple are some places of worship you can visit on your trip to Varanasi.
You can also visit the nearby ancient city of Sarnath, which is also a holy place of pilgrimage. Other things to do in Varanasi include the intriguing Archaeological Museum, the Ramnagar Fort and the Yoga Education Training Society.
Explore the travel planning tool for your visit to Varanasi and create a flawless plan in few simple steps!
28 Tourist Attractions in Varanasi

Must see places in Varanasi ranked on popularity. Here is the complete list of best attractions in Varanasi and point of interests to visit.
Tourist Attractions Near Varanasi
Find Your Varanasi Attractions on Map
Types of Things To Do in Varanasi
Find more attractions and places to visit in Varanasi under these things to do categories.
Top Varanasi Activities And Tours
Explore the best things to do in Varanasi. These are the most preferred tourist activities.
What To Do in Varanasi: Day-Wise Ideas
Find what not to miss in Varanasi! Recommended Varanasi itineraries and vacation ideas created by travelers across the world.