Best Time To Visit Vatican City
Explore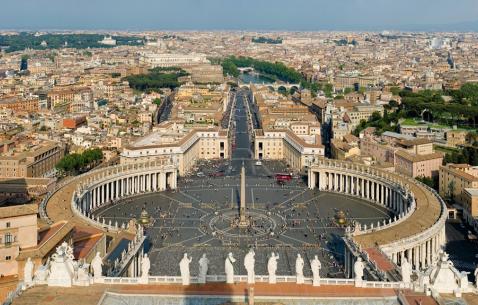 Accommodations with

See All
Best Time To Go To Vatican City
There isn't any one best time to visit. There's never an off-season; the Vatican is always crowded with tourists. You won't be spending more than a day or two touring the place, unless you happen to be some sort of scholar. The more important question is what time of day and week to visit Vatican City.
On Wednesdays, the Pope meets the general audience for an address. You might want to visit for the midnight mass on Christmas Eve, which is really, really special. Don't visit on Sunday; things tend to be closed. As for the rest of the days, you should aim to come between 11:00 am and 03:00 pm, when things are the liveliest. Crowds are always a bit higher during rainy weather.
Explore the best travel planner for your visit to Vatican City and create a flawless plan in few simple steps!
Best time to go to Vatican City Attractions

: Everyday 7:00 AM - 10:30 AM
: Everyday 7:00 AM - 10:30 AM
: Everyday 7:00 AM - 10:30 AM
: Everyday 7:00 AM - 10:30 AM
: Everyday 7:00 AM - 10:30 AM
: Everyday 7:00 AM - 10:30 AM
: Everyday 7:00 AM - 10:30 AM
: Everyday 7:00 AM - 10:30 AM
: Everyday 7:00 AM - 10:30 AM
: Everyday 7:00 AM - 10:30 AM
: Everyday 7:00 AM - 10:30 AM
: Everyday 7:00 AM - 10:30 AM

: Monday to Saturday 9:00 AM - 10:30 AM
: Monday to Saturday 9:00 AM - 10:30 AM
: Monday to Saturday 9:00 AM - 10:30 AM
: Monday to Saturday 9:00 AM - 10:30 AM
: Monday to Saturday 9:00 AM - 10:30 AM
: Monday to Saturday 9:00 AM - 10:30 AM
: Monday to Saturday 9:00 AM - 10:30 AM
: Monday to Saturday 9:00 AM - 10:30 AM
: Monday to Saturday 9:00 AM - 10:30 AM
: Monday to Saturday 9:00 AM - 10:30 AM
: Monday to Saturday 9:00 AM - 10:30 AM
: Monday to Saturday 9:00 AM - 10:30 AM

: Everyday 9:00 AM - 8:00 PM
: Everyday 9:00 AM - 8:00 PM
: Everyday 9:00 AM - 8:00 PM
: Everyday 9:00 AM - 8:00 PM
: Everyday 9:00 AM - 8:00 PM
: Everyday 9:00 AM - 8:00 PM
: Everyday 9:00 AM - 8:00 PM
: Everyday 9:00 AM - 8:00 PM
: Everyday 9:00 AM - 8:00 PM
: Everyday 9:00 AM - 8:00 PM
: Everyday 9:00 AM - 8:00 PM
: Everyday 9:00 AM - 8:00 PM

: Monday, Tuesday, Thursday, Friday, Saturday 10:00 AM - 11:00 AM
: Monday, Tuesday, Thursday, Friday, Saturday 10:00 AM - 11:00 AM
: Monday, Tuesday, Thursday, Friday, Saturday 10:00 AM - 11:00 AM
: Monday, Tuesday, Thursday, Friday, Saturday 10:00 AM - 11:00 AM
: Monday, Tuesday, Thursday, Friday, Saturday 10:00 AM - 11:00 AM
: Monday, Tuesday, Thursday, Friday, Saturday 10:00 AM - 11:00 AM
: Monday, Tuesday, Thursday, Friday, Saturday 10:00 AM - 11:00 AM
: Monday, Tuesday, Thursday, Friday, Saturday 10:00 AM - 11:00 AM
: Monday, Tuesday, Thursday, Friday, Saturday 10:00 AM - 11:00 AM
: Monday, Tuesday, Thursday, Friday, Saturday 10:00 AM - 11:00 AM
: Monday, Tuesday, Thursday, Friday, Saturday 10:00 AM - 11:00 AM
: Monday, Tuesday, Thursday, Friday, Saturday 10:00 AM - 11:00 AM

: Everyday 10:00 AM - 5:00 PM
: Everyday 10:00 AM - 5:00 PM
: Everyday 10:00 AM - 5:00 PM
: Everyday 10:00 AM - 5:00 PM
: Everyday 10:00 AM - 5:00 PM
: Everyday 10:00 AM - 5:00 PM
: Everyday 10:00 AM - 5:00 PM
: Everyday 10:00 AM - 5:00 PM
: Everyday 10:00 AM - 5:00 PM
: Everyday 10:00 AM - 5:00 PM
: Everyday 10:00 AM - 5:00 PM
: Everyday 10:00 AM - 5:00 PM

: Everyday 24 Hrs
: Everyday 24 Hrs
: Everyday 24 Hrs
: Everyday 24 Hrs
: Everyday 24 Hrs
: Everyday 24 Hrs
: Everyday 24 Hrs
: Everyday 24 Hrs
: Everyday 24 Hrs
: Everyday 24 Hrs
: Everyday 24 Hrs
: Everyday 24 Hrs

: Everyday 24 Hrs
: Everyday 24 Hrs
: Everyday 24 Hrs
: Everyday 24 Hrs
: Everyday 24 Hrs
: Everyday 24 Hrs
: Everyday 24 Hrs
: Everyday 24 Hrs
: Everyday 24 Hrs
: Everyday 24 Hrs
: Everyday 24 Hrs
: Everyday 24 Hrs

: Everyday 24 Hrs
: Everyday 24 Hrs
: Everyday 24 Hrs
: Everyday 24 Hrs
: Everyday 24 Hrs
: Everyday 24 Hrs
: Everyday 24 Hrs
: Everyday 24 Hrs
: Everyday 24 Hrs
: Everyday 24 Hrs
: Everyday 24 Hrs
: Everyday 24 Hrs

: Everyday 24 Hrs
: Everyday 24 Hrs
: Everyday 24 Hrs
: Everyday 24 Hrs
: Everyday 24 Hrs
: Everyday 24 Hrs
: Everyday 24 Hrs
: Everyday 24 Hrs
: Everyday 24 Hrs
: Everyday 24 Hrs
: Everyday 24 Hrs
: Everyday 24 Hrs

: Everyday 24 Hrs
: Everyday 24 Hrs
: Everyday 24 Hrs
: Everyday 24 Hrs
: Everyday 24 Hrs
: Everyday 24 Hrs
: Everyday 24 Hrs
: Everyday 24 Hrs
: Everyday 24 Hrs
: Everyday 24 Hrs
: Everyday 24 Hrs
: Everyday 24 Hrs

: Everyday 24 Hrs
: Everyday 24 Hrs
: Everyday 24 Hrs
: Everyday 24 Hrs
: Everyday 24 Hrs
: Everyday 24 Hrs
: Everyday 24 Hrs
: Everyday 24 Hrs
: Everyday 24 Hrs
: Everyday 24 Hrs
: Everyday 24 Hrs
: Everyday 24 Hrs

: Everyday 24 Hrs
: Everyday 24 Hrs
: Everyday 24 Hrs
: Everyday 24 Hrs
: Everyday 24 Hrs
: Everyday 24 Hrs
: Everyday 24 Hrs
: Everyday 24 Hrs
: Everyday 24 Hrs
: Everyday 24 Hrs
: Everyday 24 Hrs
: Everyday 24 Hrs

: Everyday 24 Hrs
: Everyday 24 Hrs
: Everyday 24 Hrs
: Everyday 24 Hrs
: Everyday 24 Hrs
: Everyday 24 Hrs
: Everyday 24 Hrs
: Everyday 24 Hrs
: Everyday 24 Hrs
: Everyday 24 Hrs
: Everyday 24 Hrs
: Everyday 24 Hrs