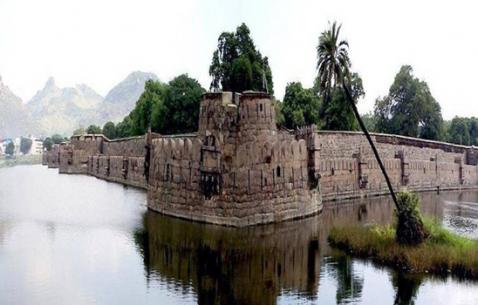 Named after the weapon of South Indian Deity Murgan, Vellore is a beautiful quaint city in the Indian state of Tamil Nadu. Located on the Banks of Palar River, this city has a very rich heritage and history.
Full of beautiful south Indian temples, scenic landscapes and vast huge dams, Vellore tourist attractions have been getting a lot of attention lately. Breathtaking surroundings and traditional south Indian atmosphere makes this city distinctly beautiful.
Vellore has been ruled by several leaders in different eras. Pallavas, Medieval Cholas, Later Cholas, Vijayanagar Empire, Rashtrakutas, Carnatic kingdom, and the British ruled the region. Periods of Hindu and Muslim stewardship were politically significant in the region.
When the British first came to this area, there was a strong resistance from the Poligars but it was subdued with time. The British then ruled the region till Independence. Traces of British rule can be still found in the city.
In the post Independence era, Vellore evolved as a town of universities and educational Institutes. Christian Medical College and Hospital and Vellore institute of Technology are top institutes in the country which bring in scholars from all over the country.
Vellore district Headquarters and a first grade Municipal Corporation are political and administrative bodies of the Indian government that overlook the running of the region.
Vellore Police takes special efforts for Prohibition enforcement, district crime, social justice and human rights. The police force has four stations in the city and crime rate is lower due to the vigilant and prompt actions. One of the police stations is an all women police station that handles sensitive cases.
37 percent of Indian leather exports are exported from Vellore area. Premium quality leather and leather related products are manufactured in the city. Automobiles are also an important Industry in the city.
Medical colleges in the country visit the place for training visits. It has become an important city for medical tourism. The century old Christian Medical College and Hospital hosts these visits and conducts small workshops for those students.
Vellore Fort, Government Museum, Science Park, Vainu Bappu Observatory, Amirthi Zoological Park, and Yelagiri Hill station are some of the Vellore tourist attractions.
Religious Places like Jalakandeswarar Temple, the Vellore Golden Temple, Big Mosque and St.Johns church attract pilgrims during religious festivals and fairs in the months of November to May.
An example of South Indian intricate design, The Vellore fort and the Jalakandeswarar mandir in the mandir make the most prominent landmark in the city.
Vellore tourism has been developing quite a bit and is the best place to visit with family on a relaxed weekend. Also if you are a student, the city gives you a memorable college experience which also includes the vibrant college festivals.
Essential travel information and Vellore tips for your visit
Contact your hotel information desk to avoid potential situations that will be against the local customs.
Observe local traditions and customs.
Read about Tamil culture before traveling to the city.
Carry a security belt to hold your important documents and money.
Carry photocopies of your important documents.
Travelling with a few companions is recommended.
Carry sunglasses, scarves and sunscreen lotion during summer visit.
Learn a few greeting in the local language.
Do not generalize South Indian communities. Respect the local languages.
Do not travel at night on your own. Do that only if you have a trustworthy person who knows the city with you.
If travelling alone, don't publicize it.
Do not litter in Public.
Vellore is a traditional town known for the temples. Maintain the sanctity of the town.
Pay a visit to the university campuses of the city.
Vellore Trip Planner
Plan your customized day by day trip plan for Vellore. Choose from various experinces categories as adventure, romantic and family and kids friendly for your trip using using Vellore trip planner.