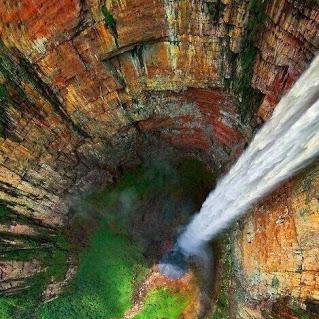 Venezuela Trip Planner
Plan your customized trip plan for Venezuela. Choose from Top Toursim cities and tourist attarctions of Venezuela using trip planner.
Venezuela Overview
This southern- American delight is a lovely country to visit. The natural heritage of the country is rich and vast. You will be able to see gorgeous landscapes like no other in this country.The most interesting of these are the "tepuis", flat-topped mountains that are an extremely unique sight.
The Angel Waterfalls which are the world's tallest ones are also in the country. There are around 43 national parks and twenty-two nature reserves that you can visit. Within them they hold Venezuela's vast and varied natural wealth.From stunning beaches, dense forests and lovely deserts to vibrant bustling cities and tinier towns, you can see it all here.
Another interesting part of the country is its Latin culture. You will find a lovely variety of handicrafts that are unique to the country. The dances and the music are equally rich in tradition as well as vibrancy and variety.
Due to all this and more, this country is definitely a very interesting destination to visit. Even though the political situation sometimes makes travel to the outer areas impossible it makes sense to see whatever part of the country one can access since it is simply stunning.
How to Reach and Get Around
Air: Caracas is the international airport is the best gateway into Venezuela. It is well connected to most major airports around the world. You will easily be able for find transfer buses, taxis and cars to your desired destination from here.
Getting around:
Rental Car: Most tourists will travel the length of the country as well as to tourist sites within the city in a rental car. It isn't very expensive and you will be able to find tourism agencies that will be able to provide this service almost anywhere, especially at the airport.
Public Transport: There are no trains for passenger transport in the country. There is an adequate bus network but it is mostly used by the locals to travel to their offices so it can be pretty crowded. Inter-city bus transport however, is quite comfortable and definitely a good option for budget travelers.
Best time to visit:
This delightful South American retreat can be visited at any time of the year. Its geographical location implies that most of the areas are belled with lovely climate almost throughout the year. You should however, be aware of the latest political happenings in the country before visiting.
Best time to Travel:
The dry season is certainly the best time to travel. From December to April, the climate is dry and pleasant. As a result of this, Venezuela sees a lot of tourist influx during this time. So it will be crowded and you will need to book in advance but climate wise this period is the most interesting.
What to see and do
Angel Falls: The tallest waterfalls in the world are in Venezuela at a whopping height of over a 1000 meters, so it only makes sense to see them when you are here. However, beware that political conflict may make this place unsafe to visit sometimes so do plan accordingly.
Margarita Island: While Caracas, the capital of the country, in itself is quite interesting, it also holds a hidden treat. The Margarita Island which lies eastwards is a lovely beach destination where you will find great fun great food and great times.
Canaima National Park: this is the second largest national park in Venezuela. It is verdant refreshing and absolutely stunning and surely worth a visit.
Los Medanos de Coro National Park: Venezuela has amazing diversity and from beaches and dense forests, we come to the desert. The sand dunes in this place are beautiful and astonishing due to their location. Certainly a must visit while in the country.
Shopping: Venezuela has a lot of tiny shops selling trinkets likeIndian bows, arrows, mats, pipes and baskets, local footwear and hammocks that can be lovely souvenirs to take back home.
Food tips:
When it comes to food, the Venezuelan culture believes in excess. You will be served a lot of food and drink as well. Refusing it is considered rude.
When at the beach don't forget to try out the tostones which are eaten with fish. They are like banana chips and are absolutely delicious.
Chocolate: Venezuela has a lot of cacao plantations and hence the chocolate is incredible.
Arepas: these are basically corn tortillas and are absolutely delicious and a must try while here.
Stick to bottled water as far as possible.
Travel Tips:
Do take a small present when visiting someone's house for the first time. If you are going for dinner take some wine or scotch.
Do maintain eye-contact when meeting people. Shake hands firmly and strongly.
Do exercise caution as the current situation in the country is not completely calm. Avoid the border areas entirely.
Donot venture out alone late at night
Do not arrive on time for social events. Punctuality in official work is appreciated but for social events it is expected that you are not overly punctual.
Do not put your feet up on furniture.
Visa Information:
Several Countries of the world do not require a visa while travelling to the country. But you will require a TEC (Tourist Entry Card) which is issued by the airline. If you are from one of the following countries all you require is a TEC otherwise you will need a visa: Andorra, Antigua & Barbuda, Argentina, Australia, Austria, Barbados, Belgium, Belize, Brazil, British Virgin Islands, Bulgaria, Canada, Chile, Costa Rica, Croatia, Denmark, Dominica, Finland, France, Germany, Great Britain, Grenada, Gibraltar, Greece, Guatemala, Hungary, Iceland, Ireland, Italy, Jamaica, Japan, Lithuania, Liechtenstein, Luxembourg, Malaysia, Malta, Mexico, Monaco, Netherlands, Netherlands Antilles, Nevis, New Zealand, Norway, Panama, Paraguay, Portugal, San Marino, South Africa, Spain, St. Kitts, St. Lucia, St. Vincent & The Grenadines, Sweden, Switzerland, Taiwan, Trinidad & Tobago, United States of America, Uruguay.EVERYONE ELSE REQUIRES A VISA.
Searching for something specific?