Best Time To Visit Vienna
Explore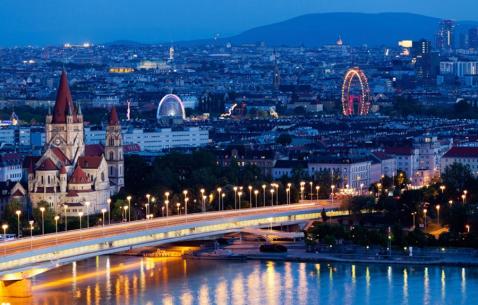 Best Time To Go To Vienna
Vienna has a busy events calendar and numerous sights to see, becoming a year round destination. Weather-wise too, it can be visited throughout the year. So, here is a guide to know which season to pick up for visit.
Spring: This season stays from April to May. The average temperature in this season is usually between high 40 degree Fahrenheit and high 60 degree Fahrenheit. That's why the weather becomes a bit cold. Despite the chilly weather, Vienna sees maximum visitors during this season.
Summer: This season continues from June to August. The temperature in this season stays around 70 degree Fahrenheit making the weather pleasant and bearable for visitors.
Autumn: September to November experiences autumn season. During this season, the temperature ranges from high 60 degree Fahrenheit and mid 40 degree Fahrenheit.
Winter: This season continues from December to March. The temperature drops to mid 30 degree Fahrenheit. That's why, the weather becomes extremely cold in Vienna.
Among all these seasons, summer is the peak season to visit Vienna. That's why the city remains extremely crowded in this season. If you hate crowd, spring and autumn are the best season to experience the beauty of Vienna. The weather in these seasons remain pleasant and at the same time sunny during day time.
Best time to go to Vienna Attractions

: Everyday 9:00 AM - 4:00 PM
: Everyday 9:00 AM - 4:00 PM
: Everyday 9:00 AM - 4:00 PM
: Everyday 9:00 AM - 4:00 PM
: Everyday 9:00 AM - 4:00 PM
: Everyday 9:00 AM - 4:00 PM
: Everyday 9:00 AM - 4:00 PM
: Everyday 9:00 AM - 4:00 PM
: Everyday 9:00 AM - 4:00 PM
: Everyday 9:00 AM - 4:00 PM
: Everyday 9:00 AM - 4:00 PM
: Everyday 9:00 AM - 4:00 PM

: Monday to Friday 8:00 AM - 3:00 PM; Saturday, Sunday 9:00 AM - 3:00 PM
: Monday to Friday 8:00 AM - 3:00 PM; Saturday, Sunday 9:00 AM - 3:00 PM
: Monday to Friday 8:00 AM - 3:00 PM; Saturday, Sunday 9:00 AM - 3:00 PM
: Monday to Friday 8:00 AM - 3:00 PM; Saturday, Sunday 9:00 AM - 3:00 PM
: Monday to Friday 8:00 AM - 3:00 PM; Saturday, Sunday 9:00 AM - 3:00 PM
: Monday to Friday 8:00 AM - 3:00 PM; Saturday, Sunday 9:00 AM - 3:00 PM
: Monday to Friday 8:00 AM - 3:00 PM; Saturday, Sunday 9:00 AM - 3:00 PM
: Monday to Friday 8:00 AM - 3:00 PM; Saturday, Sunday 9:00 AM - 3:00 PM
: Monday to Friday 8:00 AM - 3:00 PM; Saturday, Sunday 9:00 AM - 3:00 PM
: Monday to Friday 8:00 AM - 3:00 PM; Saturday, Sunday 9:00 AM - 3:00 PM
: Monday to Friday 8:00 AM - 3:00 PM; Saturday, Sunday 9:00 AM - 3:00 PM
: Monday to Friday 8:00 AM - 3:00 PM; Saturday, Sunday 9:00 AM - 3:00 PM

: Everyday 10:00 AM - 7:00 PM
: Everyday 10:00 AM - 7:00 PM
: Everyday 10:00 AM - 7:00 PM
: Everyday 10:00 AM - 7:00 PM
: Everyday 10:00 AM - 7:00 PM
: Everyday 10:00 AM - 7:00 PM
: Everyday 10:00 AM - 7:00 PM
: Everyday 10:00 AM - 7:00 PM
: Everyday 10:00 AM - 7:00 PM
: Everyday 10:00 AM - 7:00 PM
: Everyday 10:00 AM - 7:00 PM
: Everyday 10:00 AM - 7:00 PM

: Everyday 9:00 AM - 4:00 PM
: Everyday 9:00 AM - 4:00 PM
: Everyday 9:00 AM - 4:00 PM
: Everyday 9:00 AM - 4:00 PM
: Everyday 9:00 AM - 4:00 PM
: Everyday 9:00 AM - 4:00 PM
: Everyday 9:00 AM - 4:00 PM
: Everyday 9:00 AM - 4:00 PM
: Everyday 9:00 AM - 4:00 PM
: Everyday 9:00 AM - 4:00 PM
: Everyday 9:00 AM - 4:00 PM
: Everyday 9:00 AM - 4:00 PM

: Everyday 8:00 AM - 11:00 PM
: Everyday 8:00 AM - 11:00 PM
: Everyday 8:00 AM - 11:00 PM
: Everyday 8:00 AM - 11:00 PM
: Everyday 8:00 AM - 11:00 PM
: Everyday 8:00 AM - 11:00 PM
: Everyday 8:00 AM - 11:00 PM
: Everyday 8:00 AM - 11:00 PM
: Everyday 8:00 AM - 11:00 PM
: Everyday 8:00 AM - 11:00 PM
: Everyday 8:00 AM - 11:00 PM
: Everyday 8:00 AM - 11:00 PM

: Everyday 24 Hrs
: Everyday 24 Hrs
: Everyday 24 Hrs
: Everyday 24 Hrs
: Everyday 24 Hrs
: Everyday 24 Hrs
: Everyday 24 Hrs
: Everyday 24 Hrs
: Everyday 24 Hrs
: Everyday 24 Hrs
: Everyday 24 Hrs
: Everyday 24 Hrs

: Monday to Saturday 6:00 AM - 9:30 PM; Sunday 7:00 AM - 9:30 PM
: Monday to Saturday 6:00 AM - 9:30 PM; Sunday 7:00 AM - 9:30 PM
: Monday to Saturday 6:00 AM - 9:30 PM; Sunday 7:00 AM - 9:30 PM
: Monday to Saturday 6:00 AM - 9:30 PM; Sunday 7:00 AM - 9:30 PM
: Monday to Saturday 6:00 AM - 9:30 PM; Sunday 7:00 AM - 9:30 PM
: Monday to Saturday 6:00 AM - 9:30 PM; Sunday 7:00 AM - 9:30 PM
: Monday to Saturday 6:00 AM - 9:30 PM; Sunday 7:00 AM - 9:30 PM
: Monday to Saturday 6:00 AM - 9:30 PM; Sunday 7:00 AM - 9:30 PM
: Monday to Saturday 6:00 AM - 9:30 PM; Sunday 7:00 AM - 9:30 PM
: Monday to Saturday 6:00 AM - 9:30 PM; Sunday 7:00 AM - 9:30 PM
: Monday to Saturday 6:00 AM - 9:30 PM; Sunday 7:00 AM - 9:30 PM
: Monday to Saturday 6:00 AM - 9:30 PM; Sunday 7:00 AM - 9:30 PM

: Tuesday to Sunday 10:00 AM - 5:30 PM
: Tuesday to Sunday 10:00 AM - 5:30 PM
: Tuesday to Sunday 10:00 AM - 5:30 PM
: Tuesday to Sunday 10:00 AM - 5:30 PM
: Tuesday to Sunday 10:00 AM - 5:30 PM
: Monday, Tuesday, Wednesday, Friday, Saturday, Sunday 10:00 AM - 5:30 PM; Thursday 10:00 AM - 8:00 PM
: Monday, Tuesday, Wednesday, Friday, Saturday, Sunday 10:00 AM - 5:30 PM; Thursday 10:00 AM - 8:00 PM
: Monday, Tuesday, Wednesday, Friday, Saturday, Sunday 10:00 AM - 5:30 PM; Thursday 10:00 AM - 8:00 PM
: Tuesday to Sunday 10:00 AM - 5:30 PM
: Tuesday to Sunday 10:00 AM - 5:30 PM
: Tuesday to Sunday 10:00 AM - 5:30 PM
: Tuesday to Sunday 10:00 AM - 5:30 PM

: Everyday 9:00 AM - 5:00 PM
: Everyday 9:00 AM - 5:00 PM
: Everyday 9:00 AM - 5:00 PM
: Everyday 9:00 AM - 5:00 PM
: Everyday 9:00 AM - 5:00 PM
: Everyday 9:00 AM - 5:00 PM
: Everyday 9:00 AM - 5:00 PM
: Everyday 9:00 AM - 5:00 PM
: Everyday 9:00 AM - 5:00 PM
: Everyday 9:00 AM - 5:00 PM
: Everyday 9:00 AM - 5:00 PM
: Everyday 9:00 AM - 5:00 PM

: Everyday 10:00 AM - 4:00 PM
: Everyday 10:00 AM - 4:00 PM
: Everyday 10:00 AM - 4:00 PM
: Everyday 10:00 AM - 4:00 PM
: Everyday 10:00 AM - 4:00 PM
: Everyday 10:00 AM - 4:00 PM
: Everyday 10:00 AM - 4:00 PM
: Everyday 10:00 AM - 4:00 PM
: Everyday 10:00 AM - 4:00 PM
: Everyday 10:00 AM - 4:00 PM
: Everyday 10:00 AM - 4:00 PM
: Everyday 10:00 AM - 4:00 PM

: Monday to Friday 7:00 AM - 6:00 PM; Sunday 7:00 AM - 5:00 PM
: Monday to Friday 7:00 AM - 6:00 PM; Sunday 7:00 AM - 5:00 PM
: Monday to Friday 7:00 AM - 6:00 PM; Sunday 7:00 AM - 5:00 PM
: Monday to Friday 7:00 AM - 6:00 PM; Sunday 7:00 AM - 5:00 PM
: Monday to Friday 7:00 AM - 6:00 PM; Sunday 7:00 AM - 5:00 PM
: Monday to Friday 7:00 AM - 6:00 PM; Sunday 7:00 AM - 5:00 PM
: Monday to Friday 7:00 AM - 6:00 PM; Sunday 7:00 AM - 5:00 PM
: Monday to Friday 7:00 AM - 6:00 PM; Sunday 7:00 AM - 5:00 PM
: Monday to Friday 7:00 AM - 6:00 PM; Sunday 7:00 AM - 5:00 PM
: Monday to Friday 7:00 AM - 6:00 PM; Sunday 7:00 AM - 5:00 PM
: Monday to Friday 7:00 AM - 6:00 PM; Sunday 7:00 AM - 5:00 PM
: Monday to Friday 7:00 AM - 6:00 PM; Sunday 7:00 AM - 5:00 PM

: Everyday 10:00 AM - 3:45 PM
: Everyday 10:00 AM - 3:45 PM
: Everyday 10:00 AM - 3:45 PM
: Monday to Friday 10:00 AM - 4:45 PM; Saturday, Sunday 10:00 AM - 6:15 PM
: Monday to Friday 10:00 AM - 4:45 PM; Saturday, Sunday 10:00 AM - 6:15 PM
: Monday to Friday 10:00 AM - 4:45 PM; Saturday, Sunday 10:00 AM - 6:15 PM
: Monday to Friday 10:00 AM - 4:45 PM; Saturday, Sunday 10:00 AM - 6:15 PM
: Monday to Friday 10:00 AM - 4:45 PM; Saturday, Sunday 10:00 AM - 6:15 PM
: Monday to Friday 10:00 AM - 4:45 PM; Saturday, Sunday 10:00 AM - 6:15 PM
: Monday to Friday 10:00 AM - 4:45 PM; Saturday, Sunday 10:00 AM - 6:15 PM
: Everyday 10:00 AM - 3:45 PM
: Everyday 10:00 AM - 3:45 PM

: Everyday 8:00 AM - 6:00 PM
: Everyday 8:00 AM - 6:00 PM
: Everyday 8:00 AM - 6:00 PM
: Everyday 8:00 AM - 6:00 PM
: Everyday 8:00 AM - 6:00 PM
: Everyday 8:00 AM - 6:00 PM
: Everyday 8:00 AM - 6:00 PM
: Everyday 8:00 AM - 6:00 PM
: Everyday 8:00 AM - 6:00 PM
: Everyday 8:00 AM - 6:00 PM
: Everyday 8:00 AM - 6:00 PM
: Everyday 8:00 AM - 6:00 PM

: Monday, Tuesday, Thursday, Friday, Saturday, Sunday 10:00 AM - 6:00 PM; Wednesday 10:00 AM - 7:00 PM
: Monday, Tuesday, Thursday, Friday, Saturday, Sunday 10:00 AM - 6:00 PM; Wednesday 10:00 AM - 7:00 PM
: Monday, Tuesday, Thursday, Friday, Saturday, Sunday 10:00 AM - 6:00 PM; Wednesday 10:00 AM - 7:00 PM
: Monday, Tuesday, Thursday, Friday, Saturday, Sunday 10:00 AM - 6:00 PM; Wednesday 10:00 AM - 7:00 PM
: Monday, Tuesday, Thursday, Friday, Saturday, Sunday 10:00 AM - 6:00 PM; Wednesday 10:00 AM - 7:00 PM
: Monday, Tuesday, Thursday, Friday, Saturday, Sunday 10:00 AM - 6:00 PM; Wednesday 10:00 AM - 7:00 PM
: Monday, Tuesday, Thursday, Friday, Saturday, Sunday 10:00 AM - 6:00 PM; Wednesday 10:00 AM - 7:00 PM
: Monday, Tuesday, Thursday, Friday, Saturday, Sunday 10:00 AM - 6:00 PM; Wednesday 10:00 AM - 7:00 PM
: Monday, Tuesday, Thursday, Friday, Saturday, Sunday 10:00 AM - 6:00 PM; Wednesday 10:00 AM - 7:00 PM
: Monday, Tuesday, Thursday, Friday, Saturday, Sunday 10:00 AM - 6:00 PM; Wednesday 10:00 AM - 7:00 PM
: Monday, Tuesday, Thursday, Friday, Saturday, Sunday 10:00 AM - 6:00 PM; Wednesday 10:00 AM - 7:00 PM
: Monday, Tuesday, Thursday, Friday, Saturday, Sunday 10:00 AM - 6:00 PM; Wednesday 10:00 AM - 7:00 PM

: Everyday 10:00 AM - 5:00 PM
: Everyday 10:00 AM - 5:00 PM
: Everyday 10:00 AM - 5:00 PM
: Everyday 10:00 AM - 5:00 PM
: Everyday 10:00 AM - 5:00 PM
: Everyday 10:00 AM - 5:00 PM
: Everyday 10:00 AM - 5:00 PM
: Everyday 10:00 AM - 5:00 PM
: Everyday 10:00 AM - 5:00 PM
: Everyday 10:00 AM - 5:00 PM
: Everyday 10:00 AM - 5:00 PM
: Everyday 10:00 AM - 5:00 PM

: Monday to Saturday 9:00 AM - 5:00 PM; Monday to Saturday 9:00 AM - 5:00 PM | 1:00 PM - 5:00 PM; Sunday 00:1 AM - 5:00 PM
: Monday to Saturday 9:00 AM - 5:00 PM; Monday to Saturday 9:00 AM - 5:00 PM | 1:00 PM - 5:00 PM; Sunday 00:1 AM - 5:00 PM
: Monday to Saturday 9:00 AM - 5:00 PM; Monday to Saturday 9:00 AM - 5:00 PM | 1:00 PM - 5:00 PM; Sunday 00:1 AM - 5:00 PM
: Monday to Saturday 9:00 AM - 5:00 PM; Monday to Saturday 9:00 AM - 5:00 PM | 1:00 PM - 5:00 PM; Sunday 00:1 AM - 5:00 PM
: Monday to Saturday 9:00 AM - 5:00 PM; Monday to Saturday 9:00 AM - 5:00 PM | 1:00 PM - 5:00 PM; Sunday 00:1 AM - 5:00 PM
: Monday to Saturday 9:00 AM - 5:00 PM; Monday to Saturday 9:00 AM - 5:00 PM | 1:00 PM - 5:00 PM; Sunday 00:1 AM - 5:00 PM
: Monday to Saturday 9:00 AM - 5:00 PM; Monday to Saturday 9:00 AM - 5:00 PM | 1:00 PM - 5:00 PM; Sunday 00:1 AM - 5:00 PM
: Monday to Saturday 9:00 AM - 5:00 PM; Monday to Saturday 9:00 AM - 5:00 PM | 1:00 PM - 5:00 PM; Sunday 00:1 AM - 5:00 PM
: Monday to Saturday 9:00 AM - 5:00 PM; Monday to Saturday 9:00 AM - 5:00 PM | 1:00 PM - 5:00 PM; Sunday 00:1 AM - 5:00 PM
: Monday to Saturday 9:00 AM - 5:00 PM; Monday to Saturday 9:00 AM - 5:00 PM | 1:00 PM - 5:00 PM; Sunday 00:1 AM - 5:00 PM
: Monday to Saturday 9:00 AM - 5:00 PM; Monday to Saturday 9:00 AM - 5:00 PM | 1:00 PM - 5:00 PM; Sunday 00:1 AM - 5:00 PM
: Monday to Saturday 9:00 AM - 5:00 PM; Monday to Saturday 9:00 AM - 5:00 PM | 1:00 PM - 5:00 PM; Sunday 00:1 AM - 5:00 PM

: Everyday 11:00 AM - 8:00 PM
: Everyday 11:00 AM - 8:00 PM
: Everyday 11:00 AM - 8:00 PM
: Everyday 11:00 AM - 8:00 PM
: Everyday 11:00 AM - 8:00 PM
: Everyday 11:00 AM - 8:00 PM
: Everyday 11:00 AM - 8:00 PM
: Everyday 11:00 AM - 8:00 PM
: Everyday 11:00 AM - 8:00 PM
: Everyday 11:00 AM - 8:00 PM
: Everyday 11:00 AM - 8:00 PM
: Everyday 11:00 AM - 8:00 PM

: Everyday 9:00 AM - 4:30 PM
: Everyday 9:00 AM - 4:30 PM
: Everyday 9:00 AM - 4:30 PM
: Everyday 9:00 AM - 4:30 PM
: Everyday 9:00 AM - 4:30 PM
: Everyday 9:00 AM - 4:30 PM
: Everyday 9:00 AM - 4:30 PM
: Everyday 9:00 AM - 4:30 PM
: Everyday 9:00 AM - 4:30 PM
: Everyday 9:00 AM - 4:30 PM
: Everyday 9:00 AM - 4:30 PM
: Everyday 9:00 AM - 4:30 PM

: Everyday 9:00 AM - 2:00 PM
: Everyday 9:00 AM - 2:00 PM
: Everyday 9:00 AM - 2:00 PM
: Everyday 9:00 AM - 2:00 PM
: Everyday 9:00 AM - 2:00 PM
: Everyday 9:00 AM - 2:00 PM
: Everyday 9:00 AM - 2:00 PM
: Everyday 9:00 AM - 2:00 PM
: Everyday 9:00 AM - 2:00 PM
: Everyday 9:00 AM - 2:00 PM
: Everyday 9:00 AM - 2:00 PM
: Everyday 9:00 AM - 2:00 PM

: Monday, Wednesday, Thursday, Friday, Saturday, Sunday 9:00 AM - 5:30 PM
: Monday, Wednesday, Thursday, Friday, Saturday, Sunday 9:00 AM - 5:30 PM
: Monday, Wednesday, Thursday, Friday, Saturday, Sunday 9:00 AM - 5:30 PM
: Monday, Wednesday, Thursday, Friday, Saturday, Sunday 9:00 AM - 5:30 PM
: Monday, Wednesday, Thursday, Friday, Saturday, Sunday 9:00 AM - 5:30 PM
: Monday, Wednesday, Thursday, Friday, Saturday, Sunday 9:00 AM - 5:30 PM
: Monday, Wednesday, Thursday, Friday, Saturday, Sunday 9:00 AM - 5:30 PM
: Monday, Wednesday, Thursday, Friday, Saturday, Sunday 9:00 AM - 5:30 PM
: Monday, Wednesday, Thursday, Friday, Saturday, Sunday 9:00 AM - 5:30 PM
: Monday, Wednesday, Thursday, Friday, Saturday, Sunday 9:00 AM - 5:30 PM
: Monday, Wednesday, Thursday, Friday, Saturday, Sunday 9:00 AM - 5:30 PM
: Monday, Wednesday, Thursday, Friday, Saturday, Sunday 9:00 AM - 5:30 PM

: Everyday 10:00 AM - 5:00 PM
: Everyday 10:00 AM - 5:00 PM
: Everyday 10:00 AM - 5:00 PM
: Everyday 10:00 AM - 5:00 PM
: Everyday 10:00 AM - 5:00 PM
: Everyday 10:00 AM - 5:00 PM
: Everyday 10:00 AM - 5:00 PM
: Everyday 10:00 AM - 5:00 PM
: Everyday 10:00 AM - 5:00 PM
: Everyday 10:00 AM - 5:00 PM
: Everyday 10:00 AM - 5:00 PM
: Everyday 10:00 AM - 5:00 PM

: Monday to Friday 8:00 AM - 4:00 PM
: Monday to Friday 8:00 AM - 4:00 PM
: Monday to Friday 8:00 AM - 4:00 PM
: Monday to Friday 8:00 AM - 4:00 PM
: Monday to Friday 8:00 AM - 4:00 PM
: Monday to Friday 8:00 AM - 4:00 PM
: Monday to Friday 8:00 AM - 4:00 PM
: Monday to Friday 8:00 AM - 4:00 PM
: Monday to Friday 8:00 AM - 4:00 PM
: Monday to Friday 8:00 AM - 4:00 PM
: Monday to Friday 8:00 AM - 4:00 PM
: Monday to Friday 8:00 AM - 4:00 PM

: Everyday 9:00 AM - 4:00 PM
: Everyday 9:00 AM - 4:00 PM
: Everyday 9:00 AM - 4:00 PM
: Everyday 9:00 AM - 4:00 PM
: Everyday 9:00 AM - 4:00 PM
: Everyday 9:00 AM - 4:00 PM
: Everyday 9:00 AM - 4:00 PM
: Everyday 9:00 AM - 4:00 PM
: Everyday 9:00 AM - 4:00 PM
: Everyday 9:00 AM - 4:00 PM
: Everyday 9:00 AM - 4:00 PM
: Everyday 9:00 AM - 4:00 PM

: Monday to Friday 9:00 AM - 7:00 PM; Saturday 9:00 AM - 6:00 PM
: Monday to Friday 9:00 AM - 7:00 PM; Saturday 9:00 AM - 6:00 PM
: Monday to Friday 9:00 AM - 7:00 PM; Saturday 9:00 AM - 6:00 PM
: Monday to Friday 9:00 AM - 7:00 PM; Saturday 9:00 AM - 6:00 PM
: Monday to Friday 9:00 AM - 7:00 PM; Saturday 9:00 AM - 6:00 PM
: Monday to Friday 9:00 AM - 7:00 PM; Saturday 9:00 AM - 6:00 PM
: Monday to Friday 9:00 AM - 7:00 PM; Saturday 9:00 AM - 6:00 PM
: Monday to Friday 9:00 AM - 7:00 PM; Saturday 9:00 AM - 6:00 PM
: Monday to Friday 9:00 AM - 7:00 PM; Saturday 9:00 AM - 6:00 PM
: Monday to Friday 9:00 AM - 7:00 PM; Saturday 9:00 AM - 6:00 PM
: Monday to Friday 9:00 AM - 7:00 PM; Saturday 9:00 AM - 6:00 PM
: Monday to Friday 9:00 AM - 7:00 PM; Saturday 9:00 AM - 6:00 PM

: Monday to Friday 8:00 AM - 6:00 PM; Saturday 10:00 AM - 4:00 PM
: Monday to Friday 8:00 AM - 6:00 PM; Saturday 10:00 AM - 4:00 PM
: Monday to Friday 8:00 AM - 6:00 PM; Saturday 10:00 AM - 4:00 PM
: Monday to Friday 8:00 AM - 6:00 PM; Saturday 10:00 AM - 4:00 PM
: Monday to Friday 8:00 AM - 6:00 PM; Saturday 10:00 AM - 4:00 PM
: Monday to Friday 8:00 AM - 6:00 PM; Saturday 10:00 AM - 4:00 PM
: Monday to Friday 8:00 AM - 6:00 PM; Saturday 10:00 AM - 4:00 PM
: Monday to Friday 8:00 AM - 6:00 PM; Saturday 10:00 AM - 4:00 PM
: Monday to Friday 8:00 AM - 6:00 PM; Saturday 10:00 AM - 4:00 PM
: Monday to Friday 8:00 AM - 6:00 PM; Saturday 10:00 AM - 4:00 PM
: Monday to Friday 8:00 AM - 6:00 PM; Saturday 10:00 AM - 4:00 PM
: Monday to Friday 8:00 AM - 6:00 PM; Saturday 10:00 AM - 4:00 PM

: Everyday 10:00 AM - 6:00 PM
: Everyday 10:00 AM - 6:00 PM
: Everyday 10:00 AM - 6:00 PM
: Everyday 10:00 AM - 6:00 PM
: Everyday 10:00 AM - 6:00 PM
: Everyday 10:00 AM - 6:00 PM
: Everyday 10:00 AM - 6:00 PM
: Everyday 10:00 AM - 6:00 PM
: Everyday 10:00 AM - 6:00 PM
: Everyday 10:00 AM - 6:00 PM
: Everyday 10:00 AM - 6:00 PM
: Everyday 10:00 AM - 6:00 PM

: Everyday 10:00 AM - 5:00 PM
: Everyday 10:00 AM - 5:00 PM
: Everyday 10:00 AM - 5:00 PM
: Everyday 10:00 AM - 5:00 PM
: Everyday 10:00 AM - 5:00 PM
: Everyday 10:00 AM - 5:00 PM
: Everyday 10:00 AM - 5:00 PM
: Everyday 10:00 AM - 5:00 PM
: Everyday 10:00 AM - 5:00 PM
: Everyday 10:00 AM - 5:00 PM
: Everyday 10:00 AM - 5:00 PM
: Everyday 10:00 AM - 5:00 PM

: Everyday 10:00 AM - 10:00 PM
: Everyday 10:00 AM - 10:00 PM
: Everyday 10:00 AM - 10:00 PM
: Everyday 10:00 AM - 10:00 PM
: Everyday 10:00 AM - 10:00 PM
: Everyday 10:00 AM - 10:00 PM
: Everyday 10:00 AM - 10:00 PM
: Everyday 10:00 AM - 10:00 PM
: Everyday 10:00 AM - 10:00 PM
: Everyday 10:00 AM - 10:00 PM
: Everyday 10:00 AM - 10:00 PM
: Everyday 10:00 AM - 10:00 PM

: Everyday 11:55 AM - 11:59 PM
: Everyday 11:55 AM - 11:59 PM
: Everyday 11:55 AM - 11:59 PM
: Everyday 11:55 AM - 11:59 PM
: Everyday 11:55 AM - 11:59 PM
: Everyday 11:55 AM - 11:59 PM
: Everyday 11:55 AM - 11:59 PM
: Everyday 11:55 AM - 11:59 PM
: Everyday 11:55 AM - 11:59 PM
: Everyday 11:55 AM - 11:59 PM
: Everyday 11:55 AM - 11:59 PM
: Everyday 11:55 AM - 11:59 PM

: Everyday 9:00 AM - 6:00 PM
: Everyday 9:00 AM - 6:00 PM
: Everyday 9:00 AM - 6:00 PM
: Everyday 9:00 AM - 6:00 PM
: Everyday 9:00 AM - 6:00 PM
: Everyday 9:00 AM - 6:00 PM
: Everyday 9:00 AM - 6:00 PM
: Everyday 9:00 AM - 6:00 PM
: Everyday 9:00 AM - 6:00 PM
: Everyday 9:00 AM - 6:00 PM
: Everyday 9:00 AM - 6:00 PM
: Everyday 9:00 AM - 6:00 PM