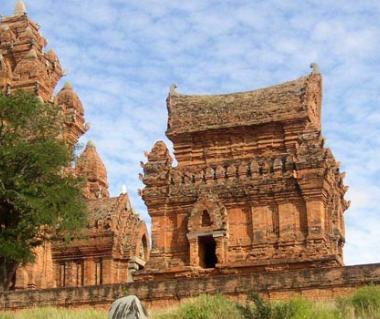 Vietnam Trip Planner
Plan your customized trip plan for Vietnam. Choose from Top Toursim cities and tourist attarctions of Vietnam using trip planner.
Vietnam Overview
Vietnam is truly the far, far east! It is the easternmost country on the Indochina Peninsula and is bordered by China in the north, Laos in the northwest, Cambodiain the southwest, and the South China Sea in the east. The varied cultural influences ranging from Chinese and Indian to French colonial and American make this country a true mixed bag of experiences from north to south. Add to that, temples and pagodas, citadels and palaces, the rich biodiversity, breathtaking topography, scintillating beaches, mouth-watering food, and we have the ingredients of a perfect holiday destination.
Vietnam has had a long war-ridden history of occupation by various countries and this is evident in the architecture, landscape and culture. Today however travellers from the world over are welcomed and tourism is a major contributing factor to the economy of the country.
The two major cities of Hanoi and Ho Chi Minh City (formerly Saigon) are bursting with life, people, sounds, smells and traffic.They offer the usual comforts of metropolitan life, delightful culinary experiences, historical monuments, warmuseums and in general a glimpse into the modern and traditional life of the Vietnamese.
The country is home to 8 UNESCO World Heritage Sights, both cultural and natural. The Imperial Citadel of Thang Long located in the heart of the capital city of Hanoi, The Complex of Monuments at Hue representing the power of the erstwhile feudal empire, the Ancient town of Hoi An, the Hindu influenced tower-temples of the Champa dynasty at My Son Sanctuary and the limestone seascapes of Halong Bay, to name a few.
With over a hundred beaches, Vietnam's coastline is littered with beach resorts and travellers from around the world soak up the sun and engage in water sports, snorkeling and diving. NhaTrang, known as the "beach capital" of Vietnam, is a tropical haven with world class resorts offering luxury as well as budget options.
The spectacular natural beauty of the country is witnessed in the the karst landscape of limestone pillars, formed along Halong Bay, and kayaking and rock climbing are popular tourist activities here. There is also the Phong Nha-Ke Bang National Park, which is the oldest karst formation in Asia, with a complex network of caves and underground rivers and surrounding forest area rich in flora and fauna. Animals like the tiger, Asiatic Black Bear, Asian Elephant, Giant Muntjac, Asian wild dog, Gausand the recently discovered Saola can also be found here. The waterways and canals of the Mekong River and the Mekong Delta predominantly covered in rice fields and fish farms is another idyllic rural region worth exploring.
Gastronomically, Vietnam offers some very delectable goodies! With fresh local produce consisting of vegetables, herbs, seafood and meat, Vietnamese cuisine is flavorful and wholesome. Like the dialects and culture, flavor too varies from the north (bland) to south (spicy). The most authentic food can be found at street side stalls like in most South East Asian countries. A popular meal is Pho (noodle soup with chicken or beef) served piping hot with herbs, limes and chilies. It is mainly a breakfast food for the locals but can be eaten throughout the day. Delicacies like eel or snail vermicelli, tamarind fried crab, rice flour pancakes with meat/seafood stuffing are commonly eaten. Also, a quirky influence of the French occupation of Vietnam is that crispy baguettes and coffee are frequently consumed by locals and commonly found on almost every street corner of major cities.
Nightlife in Vietnam is emerging and several cities and popular tourist spots are teeming with bars and nightclubs. All popular brands of alcohol are available in most places, however, a must try are the local brews like Bia Hoi (draught beer) and the Rouo De (rice alcohol) and RuouDua (coconut wine).
From nature to history, thriving nightlife to relaxing beaches, towering skyscrapers to ancient pagodas, Vietnam is a country in the stages of rapid development and modernization with equal importance given to the preservation of its rich natural and cultural heritage. The ideal getaway for any enthusiastic traveller!
BEST TIME TO VISIT
Vietnam is a land of contrasts and the climate is dramatically different as you move along its vast expanse from north to south. One can visit the country any time of the year and find summer in one region and torrential monsoons in the other.
North: Summers here are hot and wet and last from May to September with major rainfall. Spring is usually pleasant with light winds and showers in the months of March to April. Winters tend to be comparatively chilly (15°C/59°F in Hanoi) and last from November to March. The Highlands experience extreme temperatures with occasional snow in the winter and temperatures rising up to sweltering 40°C (104°F) in the summer.
Central: Summers in this region are normally hot and dry. However, the region is separated by the Hai Van pass into two types of weather patterns. In Langcoit is and extreme of hotter summers and cooler winters. While in Danang milder temperatures are experienced. During the months of September to February strong winds, large sea swells and heavy rain make it a bad time to travel through Central Vietnam.
South: Summers in the south are hot and dry from March to May/June. In April with temperatures rise to 33°C (91°F) or more making it the hottest month. Monsoons are experienced during the months of June/July to November and occasionally some flooding can occur. Mosquitoes are in abundance during the monsoon so necessary precautions should be taken.Winters are generally cool and dry and start from December, last to February with temperatures of about 20° (68°F), making it the best time of year to visit.
GET IN
By Air: Hanoi, Ho Chi Minh City and Danang all have international airports. The national carrier, Vietnam Airlines has direct flights from several major cities in Asia, Europe and the U.S. However, several other operators also offer long haul flights with transits via Bangkok, Doha, Dubai, Hong Kong, Singapore, Kuala Lumpur and Taipei.
By Rail: One can travel by train to Vietnam from China. International trains are available from Beijing and Nanning to Hanoi.
By Road: Vietnam can be accessed by road from China, Cambodia and Laos. There are several border checkpoints between major cities in these countries and Vietnam where one can enter. Several buses ply on these routes and are the most common mode of transport.
By Boat: It is possible to travel to Vietnam by boat from Cambodia. It is a five-hour journey with border checkpoint stops from Phnom Penh to the border town of Chau Doc.
GET AROUND
By Air: Apart from the national carrier, there are also several low cost carriers that operate in Vietnam and air travel is quite cheap. It is also one of the fastest ways to get from north to south.There are many flights between Hanoi and HCMC and to major towns such as Da Nang, HaiPhong, Can Tho, Hue, NhaTrang, Da Lat, PhuQuoc.
By Train: While rail infrastructure is not very well developed there are seven lines that operate within the country. The main rail line is the North-South line,which takes about 30 hours between Hanoi and Ho Chi Minh City with halts at NhaTrang, Da Nang, Hue and Vinh.
By Road: Buses, Taxis, Motorcycles, Bicycles, Cyclo (rickshaws) and Car rentals are all available modes of transport throughout the various cities and towns. However, self-driven cars for rent are not the norm and not advisable for tourists.
By Boat: Boats are a part of the way of life in Vietnam and a fun way to see the country. There are several boat tours and ferries operating for tourism purposes. Although safe, not all boats are equipped with modern amenities.
WHAT TO SEE
Time- permitting Vietnam has a lot to see and do. Depending on what one's interests are, the country has something for everyone.
Hanoi: Although, the capital city has undergone drastic modernization with looming skyscrapers (some of the tallest in Asia) it is a significant historical destination. Located on the banks of the Red River, Hanoi is considered one of the best cities in the world to visit.
Ho Chi Minh City: Formerly known as Saigon and still referred to as such by locals, HCMC is the largest city in Vietnam. Streets and boulevards with French colonial influence form part of the identity of this city. The Reunification Palace is a must visit. The city is also the hub for Vietnamese theatre and cinema.
Nha Trang: The "beach capital" of Vietnam, NhaTrang is one of the most important tourist spots in the country. Known for its resorts, scuba diving, kite boarding and catamaran boats, which are popular tourist activities here. It is a halt for annual yacht races and cruise liners alike. It also has a waterpark with the usual fun rides and slides.
FESTIVALS
Tet Nguyen Dan: Tet is the Vietnamese New Year based on the lunar calendar and falls between 19th January and 20th February. It is the biggest festival in Vietnam and while people start preparing a week in advance and the 3 days that follow are official holidays. Streets are decorated with peach blossoms and kumquat trees and the entire country comes alive. New Years Eve is a true delight for tourists. On this day people choose to leave behind the troubles of the previous year and rejoice a new one by making as much noise as possible. Music, drums, dancing and a general air of celebration take over the night.
Bai Dinh Pagoda Festival: The festival begins on the 6th day of the lunar New Year and lasts till the end of the third lunar month. It involves two parts, ceremonies and games. It is a great way to experience the Buddhist religion as followed in Vietnam and to mingle with the locals as they sing and dance and play games.
Lim Festival: Lim village located near Hanoi is the home of Quan Ho folk songs. The festival is a celebration and preservation of these folk songs. Men and women perform songs in an impromptu dialogue form. People from all over the country come to see this exchange as well as participate in other traditional activities like playing chess, weaving competitions and wrestling.
Elephant Racing Festival: Taking place in TayNguyen, the festival is a celebration of the bond between humans and the elephants that have served them so faithfully over the centuries. Held in the third lunar month, the festival sees elephants from all over the province travel to participate in the race and swimming competition. They are fed several treats like sugarcane, sweet potatoes, papayas and bananas. After the races people gather and celebrate in a boisterous manner with drinking and dancing.
Do's and Dont's:
Vietnam is a country steeped in culture and tradition. It is essential to know the socially acceptable and unacceptable before you venture into this exotic land. Certain safety measures and precautions are also prudent as tourists are easy targets.
Don't carry large sums of money or expensive jewelry when venturing out of your hotel as pick-pocketing is rampant in crowded areas.
Don't use video cameras in ethnic rural areas as it is considered to be rude and an invasion of privacy.
Don't dress in shorts or graphic t-shirts when visiting places of religious significance.
Don't take pictures of any military sights or vehicles as it is considered a breach of national security.
When visiting someone's home, do not sit with your feet pointing toward the altar.
Do bring fruits, sweets, flowers (not yellow) or incense when visiting a Vietnamese home.
Use both hands when handing over something to someone but never pass anything over their head.
Do learn to use chopsticks if you can.
Always remember to take off your footwear when entering a Vietnamese home.
Dress conservatively and avoid public displays of affection.
When meeting new people limit your greeting to a handshake or a slight bow of the head. Do not exchange hugs or kisses, as this is not the norm.
Searching for something specific?