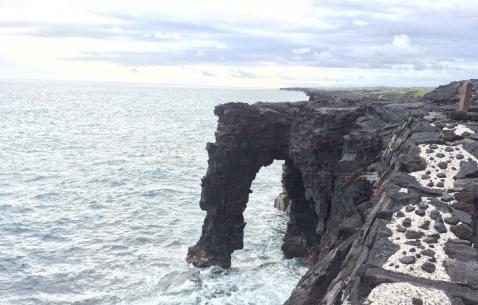 Hawaiian Volcanoes is a group of islands which is based on the largest tectonic plates on earth. This place consists of two of the major 5 Hawaiian volcanoes and almost all attractions here are related to these. It has a great national park which is not only a world heritage site but was also featured on the 14th quarter of America's Beautiful Quarters. It is also now an International Bio-reserve heritage.
Similar to the volcanoes, people here are also quite warm. As it is a place that is not often frequented by tourists, people here are quite welcoming. The Mauna Loa Observatory Center is another thing set up to analyze the working of volcanoes and to observe the volcano. Ever since the setting up of this city in the late 1800s, it has time and again proved itself to be a perfect zone to witness and analyze volcanic activity.
Even in the early 1900s, when an earthquake had killed thousands of people in Italy, the resident of Volcanoes- Mr Thomas. A. Jaggar decided to analyze and set up a place to study volcanic and seismic activity. With funding rounds one after the other, it was established as one of the best places to get an overview of how volcanic activities actually work. Today, it is known as Thomas A Jaggar Museum and it is a part of the Hawaii Volcanoes National Park.
The National Park does not have only hot lava to offer to you. One of the volcanoes here last erupted in the year 1984 but is the largest active volcano on earth. Yes we are talking of the Mauna Loa volcano. The other one- Kilauea is an active volcano and becomes active every year. Apart from this, you are also sure to find a lot of galleries, gardens inspired by volcanoes here. It is safe to say that the main livelihood of people here is and revolves around volcanoes- justifying the name of the city!
Essential travel information and Volcano tips for your visit
Essential Information
Time Zone: Hawaii-Aleutian Time Zone (UTC-10:00)
Currency: Hawaii's currency is the U.S. dollar. You can exchange currency at Hilo Airport , or at the other major neighbour island airports, and at resort destinations.
Electricity & Internet: Voltage: Internet access is readily available in Hawaii. Electricity in the U.S. is 120 volts (120 v) at 60 cycles (60 Hz) per second. If your device does not accept this voltage, you may need to purchase a voltage converter.
Language: Hawai'i is the only American state to have two official languages, Hawaiian and English. However, a 3rd unofficial language is also widely spoken, Pidgin which is a slang combining words from many aspects of island life and culture.
Security
Avoid walking on desolate dark streets or park at night; take care of your valuables.
The area code for the state of Hawaii is (808).
Off-beaten Path
Visit the art galleries and explore the beautiful glass sculptures inspired by volcanoes.
Tipping
U.S. standards on tipping apply:
Restaurants: 15-20%. Check to see if "gratuity" is included for large parties.
Bar: USD 50 - USD 1 per drink
Housekeeping: USD 1 per bed, per night
Luggage porters: USD 1 per bag
Doorman: USD 1 for calling a taxi
Room Service: 10-15% of the total bill
Taxi: 15% of fare
Tourist Traps
If you are hiring a taxi online, the fare comes at a much lower rate as compared to the ones waiting on the street. Hiring these road side taxis might make you pay dollars 25 for a short trip.
Tips
Check-in baggage is limited to 2 per person.
Carry-on baggage is limited to one piece, along with one personal item such as notebook computer bags, purses, briefcases, cameras, etc.
Be careful not to have overweight baggage; U.S. weight restrictions when flying domestically are 50 pounds, 70 pounds when flying internationally. The flight from the continental U.S. to Hawaii is a domestic flight.
Hang identification tag on your baggage and affix an identifying label on your laptop.
Volcano Trip Planner
Plan your customized day by day trip plan for Volcano. Choose from various experinces categories as adventure, romantic and family and kids friendly for your trip using using Volcano trip planner.
The best tours and activities in the city, guided by experts to give you a local insight to the best of Volcano