Madan Mohan Temple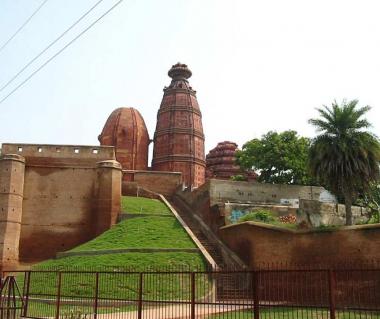 Book Now
Book Now
Book Now
Show More
About Madan Mohan Temple, Vrindavan
Considered to be the oldest temple in Vrindavan, the Madan Mohan Temple was originally a 60 feet tall temple atop a 50 feet high hill. The temple is dedicated to Madan Mohan, whose name translates into the "one who can even enchant Cupid". When the Mughal emperor Aurangzeb seized Vrindavan and was attacking the temples, the deities of this temple were transported to Jaipur to keep them safe. While the temple could not survive the wrath of the king, a new Madan Mohan Temple was constructed in early nineteenth century, and the idols are all replicas of the original deities.
Madan Mohan Temple Tickets Prices
Most Hindu temples in India have no entry fees.
How To Get To Madan Mohan Temple by Public Transport
Love this? Explore the entire list of things to do in Vrindavan before you plan your trip.
Fancy a good night's sleep after a tiring day? Check out where to stay in Vrindavan and book an accommodation of your choice.
Address: Bankebihari Colony, Vrindavan, Uttar Pradesh 281121
Time Required: 01:30 Hrs
Timings: 06:00 am - 09:30 pm Details
Added 2.6K times in trip plans
Religious Site, Temple, Family And Kids
Try TripHobo Trip Planner
Share your experience - Rate Madan Mohan Temple, Vrindavan
Very very beautiful temple with lot of pastimes associated with it. Just looking at this temple you will feel the bliss. Not many know that this is the first temple of Vrindavana formally dedicated to Krishna. This was partially destroyed multiple times by invaders as you can observe from the top canopy

"Mahārāja Vajranābha installed the three deities of Śrī Govinda, Śrī Gopīnātha and Śrī Madana-mohana in Śrī Dhāma Vṛndāvana. In time, due to the oppression of the barbarians, the priests hid these deities in various places and fled. Vṛndāvana turned into a dense forest. Later Śrī Sanātana Gosvāmī again manifested Śrī Madana-mohana. Sometimes in the morning, Śrī Sanātana Gosvāmī walked the sixteen miles from Vṛndāvana to Govardhana to perform the fourteen-mile long parikramā of Govardhana. From there, he would walk another sixteen miles to Mathurā to collect alms (mādhukarī) and then again walk back to his bhajana-kuṭī in Vṛndāvana. One day, he came to the house of a Caube brāhmaṇa in Mathurā for alms. What did he see there? In the house of the Caube, two beautiful boys were playing the game gullī-ḍaṇḍā. Madana, the restless, fidgety boy with a dark-bluish complexion defeated the son of the Caube. Madana climbed upon the shoulders of the defeated boy and enjoyed a 'horse ride'. But when the Caube's son defeated Madana the second time they played, and it was his turn to enjoy a ride on Madana's shoulders, Madana ran into the temple room. Seeing this, the son of the Caube angrily abused and pursued Him. He wanted to enter the temple, but the priest scolded him and chased him away. Pointing his forefinger at Madana, who had turned into the deity, the son of the Caube said, "You just wait, I will see You tomorrow." This scene amazed Śrī Sanātana Gosvāmī. The next day, he arrived a little earlier, at breakfast time, desiring to again have darśana. Although she had not yet taken bath, the Caubāin was making khichrī for both boys, who were sitting waiting for their breakfast. Maiyā was brushing her teeth with one end of a stick and was stirring the khichrī with the other end. When she had finished cooking, she served the boys the hot khichrī in bowls, cooling it down by blowing on it with her mouth. The boys were relishing this khichrī with great love. Sanātana Gosvāmī could not tolerate her improper conduct. "Maiyā, it is not proper to cook khichrī without taking bath, to stir it with the stick you use to brush your teeth, and then to serve this contaminated breakfast to the boys." The Caubāin realized her mistake, and replied, "Bābā, from tomorrow, I will be clean when I cook and serve the boys their breakfast." Śrī Sanātana Gosvāmī wanted to see more pastimes of the deity of Śrī Madana-mohana, so on the third day he went again. Breakfast was delayed that day because Maiyā was taking bath. She then had to clean the pots. The hungry boys were demanding breakfast. Maiyā pacified them, and after completing her morning chores, she started cooking khichrī. The two boys were pulling on her cloth, insisting on eating at once. Sanātana Gosvāmī was unable to tolerate this. He approached her and said, "Maiyā, there is no need for you to be clean by bathing. If this Madana is pleased with your unclean and impure breakfast, then you should do as such. I have committed an offence at your feet. From tomorrow, you should do whatever you think is proper to satisfy them." Just as Sanātana Gosvāmī was about to leave, the boy Madana came out of the temple room and said, "Bābā, I will come with you." But Śrī Sanātana Gosvāmī replied, "I am a completely renounced person. I have neither a place to live, nor any arrangement to cook palatable food. If even Yaśodā-maiyā could not completely satisfy You, how can I take care of You?" The child Madana however insisted on coming with him. When Sanātana Gosvāmī had reached his bhajana-kuṭī, he turned around and saw the boy smile and change into His deity form. After the disappearance of Śrī Sanātana Gosvāmī, Aurangzeb who was inimical to the Hindus, desecrated this temple in 1670 AD, destroying the dome and other parts. Madana-mohanajī and other deities of Vṛndāvana were moved to Jaipura beforehand. Madana-mohanajī now resides in Karaulī." From 'Sri Vraja-mandal Parikrama' by Srila Bhaktivedanta Narayana Gosvami Maharaja

Read more

Another principal temple in Brindavan. Ancient and beautiful temple complex.

Heritage place. Original oldest Mandir in Vrindavan, made up of terracotta.

Old temple but no one care it monkeys also attack here
Read all reviews