Best Time To Visit Vyborg
Explore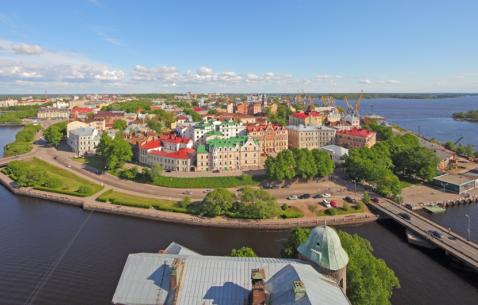 Best Time To Go To Vyborg
The climate of Vyborg is cold and temperate. It receives significant rainfall during the year. The driest month is February in Vyborg. July is the warmest month in the town. January has the lowest temperature around -7 Degree Celsius in Vyborg.
Spring : April and May constitute of spring season. The average temperature is around 10 Degrees Celsius.
Summer : June and July are summer months in Vyborg. The average temperature is around 17 Degree Celsius. August and September receive the highest rainfall in Vyborg.
Autumn : The fall takes place in the month of October. The average minimum temperature is 5.5 Degree Celsius and maximum temperature is 7.9 Degree Celsius. October is the best time to visit Vyborg.
Winter : November to March constitutes of winters in Vyborg and the lowest temperature is around -7 Degree Celsius.
Best time to go to Vyborg Attractions

: Everyday - 4:00 PM
: Everyday - 4:00 PM
: Everyday - 4:00 PM
: Everyday - 4:00 PM
: Everyday - 4:00 PM
: Everyday - 4:00 PM
: Everyday - 4:00 PM
: Everyday - 4:00 PM
: Everyday - 4:00 PM
: Everyday - 4:00 PM
: Everyday - 4:00 PM
: Everyday - 4:00 PM

: Everyday 11:00 AM - 3:00 PM
: Everyday 11:00 AM - 3:00 PM
: Everyday 11:00 AM - 3:00 PM
: Everyday 11:00 AM - 3:00 PM
: Everyday 11:00 AM - 3:00 PM
: Everyday 11:00 AM - 3:00 PM
: Everyday 11:00 AM - 3:00 PM
: Everyday 11:00 AM - 3:00 PM
: Everyday 11:00 AM - 3:00 PM
: Everyday 11:00 AM - 3:00 PM
: Everyday 11:00 AM - 3:00 PM
: Everyday 11:00 AM - 3:00 PM

: Everyday 11:00 AM - 3:00 PM
: Everyday 11:00 AM - 3:00 PM
: Everyday 11:00 AM - 3:00 PM
: Everyday 11:00 AM - 3:00 PM
: Everyday 11:00 AM - 3:00 PM
: Everyday 11:00 AM - 3:00 PM
: Everyday 11:00 AM - 3:00 PM
: Everyday 11:00 AM - 3:00 PM
: Everyday 11:00 AM - 3:00 PM
: Everyday 11:00 AM - 3:00 PM
: Everyday 11:00 AM - 3:00 PM
: Everyday 11:00 AM - 3:00 PM

: Tuesday to Sunday 1:00 PM - 4:00 PM
: Tuesday to Sunday 1:00 PM - 4:00 PM
: Tuesday to Sunday 1:00 PM - 4:00 PM
: Tuesday to Sunday 1:00 PM - 4:00 PM
: Tuesday to Sunday 1:00 PM - 4:00 PM
: Tuesday to Sunday 1:00 PM - 4:00 PM
: Tuesday to Sunday 1:00 PM - 4:00 PM
: Tuesday to Sunday 1:00 PM - 4:00 PM
: Tuesday to Sunday 1:00 PM - 4:00 PM
: Tuesday to Sunday 1:00 PM - 4:00 PM
: Tuesday to Sunday 1:00 PM - 4:00 PM
: Tuesday to Sunday 1:00 PM - 4:00 PM

: Everyday 10:00 AM - 3:00 PM
: Everyday 10:00 AM - 3:00 PM
: Everyday 10:00 AM - 3:00 PM
: Everyday 10:00 AM - 3:00 PM
: Everyday 10:00 AM - 3:00 PM
: Everyday 10:00 AM - 3:00 PM
: Everyday 10:00 AM - 3:00 PM
: Everyday 10:00 AM - 3:00 PM
: Everyday 10:00 AM - 3:00 PM
: Everyday 10:00 AM - 3:00 PM
: Everyday 10:00 AM - 3:00 PM
: Everyday 10:00 AM - 3:00 PM

: Everyday 1:00 PM - 5:00 PM
: Everyday 1:00 PM - 5:00 PM
: Everyday 1:00 PM - 5:00 PM
: Everyday 1:00 PM - 5:00 PM
: Everyday 1:00 PM - 5:00 PM
: Everyday 1:00 PM - 5:00 PM
: Everyday 1:00 PM - 5:00 PM
: Everyday 1:00 PM - 5:00 PM
: Everyday 1:00 PM - 5:00 PM
: Everyday 1:00 PM - 5:00 PM
: Everyday 1:00 PM - 5:00 PM
: Everyday 1:00 PM - 5:00 PM

: Everyday 11:00 AM - 4:00 PM
: Everyday 11:00 AM - 4:00 PM
: Everyday 11:00 AM - 4:00 PM
: Everyday 11:00 AM - 4:00 PM
: Everyday 11:00 AM - 4:00 PM
: Everyday 11:00 AM - 4:00 PM
: Everyday 11:00 AM - 4:00 PM
: Everyday 11:00 AM - 4:00 PM
: Everyday 11:00 AM - 4:00 PM
: Everyday 11:00 AM - 4:00 PM
: Everyday 11:00 AM - 4:00 PM
: Everyday 11:00 AM - 4:00 PM

: Everyday 11:00 AM - 3:00 PM
: Everyday 11:00 AM - 3:00 PM
: Everyday 11:00 AM - 3:00 PM
: Everyday 11:00 AM - 3:00 PM
: Everyday 11:00 AM - 3:00 PM
: Everyday 11:00 AM - 3:00 PM
: Everyday 11:00 AM - 3:00 PM
: Everyday 11:00 AM - 3:00 PM
: Everyday 11:00 AM - 3:00 PM
: Everyday 11:00 AM - 3:00 PM
: Everyday 11:00 AM - 3:00 PM
: Everyday 11:00 AM - 3:00 PM

: Everyday 11:00 AM - 3:00 PM
: Everyday 11:00 AM - 3:00 PM
: Everyday 11:00 AM - 3:00 PM
: Everyday 11:00 AM - 3:00 PM
: Everyday 11:00 AM - 3:00 PM
: Everyday 11:00 AM - 3:00 PM
: Everyday 11:00 AM - 3:00 PM
: Everyday 11:00 AM - 3:00 PM
: Everyday 11:00 AM - 3:00 PM
: Everyday 11:00 AM - 3:00 PM
: Everyday 11:00 AM - 3:00 PM
: Everyday 11:00 AM - 3:00 PM