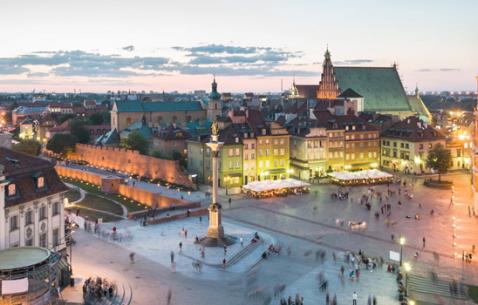 Even though Poland has been quite a favorite of Jeffrey Archer in terms of tragic setting and background of a lot of character establishments, the city has a lot more to it today. The World War II left most of the areas,regions and neighborhoods and most of its cultural heritage in ruins. Despite this, the city and its people's spirits have persevered. Its monuments, buildings, parks and streets have been painstakingly and lovingly restored to their former glory. Now, apart from the memorial and the museums that recognise this painful past, there's barely any sign that the city ever suffered. Warsaw is more enchanting than ever.
It's most important attractions, like most places in Europe, pay tribute to its history. What sets it apart is how recent that history is. The most important event in the city's history was the Warsaw Uprising, which though it failed, was a success in being the only demonstrably effective military resistance to German oppression in all of Europe during WWII. There's the Warsaw Ghetto Memorial, the Memorial Museum and the much restored Nowy Swiat.Slowly becoming an important trade center, there is something in this city for everyone at all times. Just as you feel you have absorbed enough history with your visits to all kinds of museums is when you will realize that the city would rise again after hours and involve you into its mystic nightlife.
There's much to appreciate apart from this. Tourists will love the parks, the unique non-westernized cuisine, the milk bars and the huge variety of coffee. The city's subtlety lends it a unique and relaxed romantic environment. Although it's true that much of this elegant city's mystery and majesty comes from it's tragic past in the last century but most of these incidents are now existent only in records and have a considerable amount of space in people's memories. But today, you must visit to explore this wonderful city and it is sure to make a permanent place in your memory! Each one of you should visit Warsaw at least once and experience all that it has to offer considering the best time to visit Warsaw.
Essential travel information and Warsaw tips for your visit
Essential Information
Time Zone: UTC+01:00
Currency- The currency used here is zloty ( PLN). 1 Zloty is divided into 100 Grosky.
Internet
Hot Spot: In Warsaw, you have the chance to enjoy free, municipal Wi-Fi network, in many placed like the Old Town, on, 'Wiech' Passage - Shopping Centre and in the area of Browarna Street , at the back of the 'Wars i Sawa' or Krakowskie Street. Free internet is also available in Costa and Coffee Heaven cafés, Pizza Hut restaurants, Mc donald's, starbucks, KFC as well as some food locations in the city centre. The majority of hotels and hostels also have internet access.
Electricity
In Poland is 230V, 50Hz AC
Languages
Poland's official language: Polish, Warsaw residents speak Polish as their first language and only some of the city's population is fluent in English, French or German.
Emergency Contact Numbers
999 : Ambulance
998 : Fire Brigade
997 : Police986 – Municipal Wardens
To call an emergency service using a mobile phone, please dial112 - all services 800 777 770 : Information about emergency treatment in hospitals: Warsaw Medical Information : +48 22 827 89 62, +48 22 826 83 00
Security
Beware of pick-pockets.
Warsaw is a relatively safe but don't flash around your wealth in public areas. Hide your money wisely and don't carry visible wads.
Avoid Praga at night and during the day, don't wander off; stick to the tourist zone.
Should you face any problem, ask a policeman for help.
National holidays can turn violent due to political propaganda, so a little cautiousness can go a long way.
Don't speak too well of Russia. The Poles place much of the blame of the Uprising's failure on lack of Soviet Cooperation.
Don't demonstrably appreciate the Palace of Culture and Science, which was built by the Soviets.
Don't speak ill about Warsaw's idols, whether Curie or especially the members of the Uprising.
Off-beaten Path- Do hop on a tram and explore the city.
Tipping- The average tip is around 10-15% of the cheque. Tipping is not obligatory, you can tip whoever you want to show that the service was good. Don't forget to tip tour guides and drivers too, but only if you are happy with the service they have provided.
Tourist Traps
Avoid Praga at night and during the day, don't wander off; stick to the tourist zone.
Do not buy souvenirs from big hotels.
Do not stay for too long at the station.
Customs
Should you be travelling around Warsaw in your car, please have in mind that in the city most of parking places are paid parking zones.
If you hand over the money and say Thank You - Dziekuje -, the waiter will consider that you are saying "Keep the change", no matter how much it is.
In Poland, ladies are always first and you refer to people who are older than you as Mr. or Ms.
Saying "hello," "goodbye" and "thank you" in stores, restaurants, hotels and so on is normal.
Warsaw Trip Planner
Plan your customized day by day trip plan for Warsaw. Choose from various experinces categories as adventure, romantic and family and kids friendly for your trip using using Warsaw trip planner.
The best tours and activities in the city, guided by experts to give you a local insight to the best of Warsaw