Frick Park Off Leash Exercise Area
Address:

Pittsburgh, PA 15217, USA, 15217, United States

Phone:

+1-4122552539

Ticket Price:

Free

Tags: Park, Family And Kids, Landmarks, Parks, Dog Parks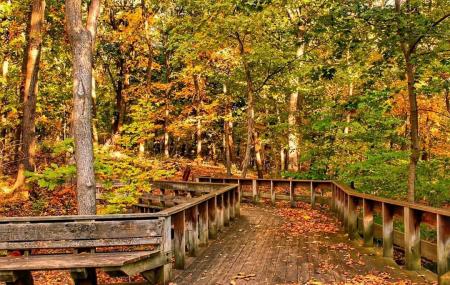 To surprise your canine companion with a fun-filled day out, you can always sketch a plan to visit the Frick Park Off-leash Exercise Area. It is a well maintained and intelligently designed dog park where your loving pets can enjoy their time being off-leash. The park area is large and it is fully fenced. Hence, no matter if you have small or large dogs, they will surely have a good time here playing and running their hearts out. There are plenty of trees and grasslands in this spot which you will certainly like. A lot of clean water bowls placed in the corners of this park assure to keep the dogs hydrated here ideally.
Bus 65 to stop : Beechwood Blvd at Crombie St FS
Bus 65 to stop : Beechwood Blvd at Nicholson St
More about Frick Park Off Leash Exercise Area
Tucked away in greenery, Frick Park Off Leash Exercise Area in Pittsburgh, United States is a favorite retreat amongst public to spend pleasant evenings with friends and family. This lovely park is loved by kids who have fun to their heart's content, playing on the many equipment here. It is considered to be one of the best places to visit in Pittsburgh.
If you are looking for a place after a hectic day of wandering in Pittsburgh, then you must arrive at Frick Park Off Leash Exercise Area. Find all the information related to the park on this page. Right from address, operational timings, and ticket price, we have provided you all the details here. A brief description of the park lets you know about its features and the surrounding area. An image of the park gives you an idea about how it looks. You can easily reach the exact location of Frick Park Off Leash Exercise Area by referring to the map provided on the page. While a few features of the park can be accessed free of cost, other may require payment of a reasonable ticket price. You will find such information provided on this page. Also, if you are a local and have more information regarding the park, we urge you to add it here. This will help other visitors who wish to spend time at the park.
There are many attractions near Frick Park Off Leash Exercise Area that you may like to cover before arriving at the park. These attractions are also listed here. Using our Pittsburgh trip creator, we advise you to create an itinerary including these attractions along with Frick Park Off Leash Exercise Area which will help you in covering every nook and corner of Pittsburgh. You may also refer to the existing Pittsburgh itineraries that have been customized by our experts and other travellers. This will help you in knowing how others have made the most of their Pittsburgh trip.
Whether you are on a luxury vacation or travelling on a budget to Pittsburgh, you can find all types of accommodation on TripHobo's website. Just by providing the dates of your stay, we will present you with a list of the best hotels. There are plenty of accommodations if you wish to stay near Frick Park Off Leash Exercise Area. This will allow you to visit the park every evening until your stay in the city. You can book hotels through Booking.com, Priceline, Hotelscombined, and Agoda on our website. Comfortable homestays are also available with Airbnb if you wish to stay at a homely place.
You can find a comprehensive list of many restaurants that are located near Frick Park Off Leash Exercise Area in Pittsburgh. It is normal to feel hunger pangs after a tiring day of roaming around the city. Visit any of these restaurants to satisfy your craving. Be it fast food, Italian, Asian, French, American, or Indian, you will find a variety of dishes being served at these different restaurants. If you want to enjoy a drink, choose a bar from the list provided on this page. Experience the nightlife in Pittsburgh by attending any of the clubs that are listed here.
Travelling to Frick Park Off Leash Exercise Area is made easy by providing information about public transport. Also, nearby public services such as ATMs, gas stations, police stations, pharmacies, and railway stations have also been mentioned on this page.
Visit Frick Park Off Leash Exercise Area at the end of the day to relax and unwind yourself.
Frick Park Off Leash Exercise Area Address: Pittsburgh, PA 15217, USA, 15217, United States
Frick Park Off Leash Exercise Area Contact Number: +1-4122552539
Frick Park Off Leash Exercise Area Price: Free
Try the best online travel planner to plan your travel itinerary!
Website:

http://frick-park-pittsburgh-usa.placestars.com
Are you associated with this business? Get in Touch
Good off leash area! There are two separate large fenced areas, one is behind the other and you can't clearly see it unless you know it's there. The first area usually has bigger, more energetic dogs, so if you have a smaller dog or a slightly nervous dog, try the second area. It is more likely to be empty, too, if you're looking for somewhere to teach your dog recall or play some private fetch. Don't go after a rain, the first park area will be muddy!

The worst dog park I've ever experienced. First, you can't find it. Two, by the time I hike a mile to the dog park my dog is already exhausted, so there's no point of going to the dog park. Three, there were no other dogs there so my dog couldn't run around and socialize (which is why I go to the dog park!!) Terrible. There are much better dog parks in Pittsburgh.

Great park. Big open spaces for dogs to run. Two different fenced in areas.

One of the best dog parks in Pittsburgh. It is roughly a half (1/2) mile walk from the north entrance. It maybe difficult to access for people who aren't as able bodies though or have children. The last segment of the path is more of a trail (200'-0" or so in length) so it likely is handicap accessible. It is accessible with a stroller though if you have large enough wheels.

Do not follow the directions from Google Maps by car. It will lead you down Forest Glen Rd, which is not the best way to reach the dog park. You need to go to the entrance of Blue Slide Park (the Frick Park entrance off of Beechwood near the big playground) and walk back to the off-leash area from there.
Read all reviews
KeyBank ATM

2001 Murray Ave

PNC Bank ATM

2250 S Braddock Ave
View On Map
PNC Bank

1701 S Braddock Ave

Tri Boro Federal Credit Union

600 E 8th Ave

Citizens Bank

901 Wood St
View On Map
Allegheny County Police Bureau

400 N Lexington St

Wilkinsburg Police Department

605 Ross Ave

Homestead Police Department

221 E 7th Ave

Pittsburgh Police Station

5858 Northumberland St

Homestead Police Department

140 E 9th Ave

Swissvale Boro Police Chief

7548 Roslyn St
View On Map
Rite Aid

100 William Marks Way

CVS Pharmacy

5600 Wilkins Ave

CVS Pharmacy

520 Penn Ave

Murray Avenue Apothecary

4227 Murray Ave
View On Map
T's Restaurant & Lounge

7526 Washington Ave

The Independent Brewing Company

1704 Shady Ave

Dorothy 6 Blast Furnace Cafe

224 E 8th Ave

Ramen Bar

5860 Forbes Ave

Pub In The Park

7034 Blackhawk St

The Map Room

1126 S Braddock Ave
View On Map
The Space Upstairs

214 N Lexington St
View On Map
Murphy's Tap Room

1106 S Braddock Ave

Squirrel Hill Sports Bar

5832 Forward Ave

Silky's Sports Bar and Grill

1731 Murray Ave

Lounge 7101

7101 Frankstown Ave

Phase III

7232 Hamilton Ave

Phase 3

7232 Hamilton Ave
View On Map
Dunkin' Donuts

4578 Browns Hill Rd

Pittsburgh Bagel Factory

5885 Forbes Ave

Bruegger's

1719 Murray Ave

Dunkin' Donuts

5889 Forbes Ave

A & B Doughnuts

514 E 8th Ave

Chesapeake Bagel Bakery

5885 Forbes Ave
View On Map
Gluuteny Bakery

1923 Murray Ave

Sumi's Cakery

2119 Murray Ave

Panera Bread

136 Bakery Square Blvd

Waffallonia

1707 Murray Ave

Panera Bread

210 W Bridge St

Gaby et Jules Patisseries et Macarons

5837 Forbes Ave
View On Map
Copper Kettle Brewing Company

557 Greenfield Ave

Voodoo Brewery

205 E 9th Ave

Stay Tuned Distillery

810 Ravine St
View On Map
Biddle's Escape

401 Biddle Ave

Starbucks

270 W Bridge St

Dobra Tea

1937 Murray Ave

Starbucks

6304 Forbes Ave

Starbucks

2345 Murray Ave

Square Cafe

1137 S Braddock Ave
View On Map
Cold Stone Creamery

5800 Forbes Ave

Rita's On Forbes

5880 Forbes Ave

Leona's Ice Cream Sandwiches

774 Penn Ave

Baskin-Robbins

5819 Forbes Ave

Dairy Queen

1000 Ross Ave

Ice Cream Shoppe On Forbes

5885 Forbes Ave
View On Map
Bar Louie

244 W Bridge St

Jimmy John's

5833 Forbes Ave

Ease Modern Comfort Cuisine

1100 S Braddock Ave

Rock Bottom

171 E Bridge St

Jimmy John's

6425 Penn Ave

Pittsburgh Improv Comedy Club

166 E Bridge St
View On Map
Foli's Place

1050 Brinton Rd

Eat 'n Park

1816 Murray Ave

Chick-Fil-A

480 E Waterfront Dr

Uncle Sam's Submarines

5808 Forbes Ave

Steak 'n Shake

650 E Waterfront Dr

Ryan's Pub & Grill

607 S Braddock Ave
View On Map
Hokkaido Seafood Buffet

4612 Browns Hill Rd

Curry On Murray

2121 Murray Ave

Everyday Noodles

5875 Forbes Ave

Coriander India Grill

2201 Murray Ave

Chaya Japanese Cuisine

2104 Murray Ave

Sun Penang

5829 Forbes Ave
View On Map
Showcase BBQ

6800 Frankstown Ave

The Dream BBQ

7600 N Braddock Ave

Murray Avenue Grill

1720 Murray Ave

Triangle Bar & Grill

2122 Monongahela Ave

Lapko's Bar & Grill

340 E 8th Ave

Wings & A Prayer

7543 Roslyn St
View On Map
Red Robin Gourmet Burgers

175 E Waterfront Dr

McDonald's

400 E Waterfront Dr

Burgatory

299 W Bridge St

Grilliance

2118 Murray Ave

The BBQ Spot

7600 Hamilton Ave
View On Map
P.F. Chang's China Bistro

148 W Bridge St

Rose Tea Cafe

5874 Forbes Ave

Tan L.Ac. Vien

2114 Murray Ave

Sichuan Gourmet

1900 Murray Ave

How Lee Chinese Food

5888 Forbes Ave

China Star

4219 Murray Ave
View On Map
NU Jewish Bistro

1711 Murray Ave

Smallman Street Deli

1912 Murray Ave

Frick Park Market

7103 Reynolds St

Brrats Deli

1703 Monongahela Ave
View On Map
Nancy's East End Diner

616 South Ave

Naya Restaurant

2018 Murray Ave

Eat'n Park

1336 Bennington Ave
View On Map
Wendy's

1703 S Braddock Ave

Eat 'n Park

245 E Waterfront Dr

Wendy's

4524 Browns Hill Rd

Taco Bell

1603 S Braddock Ave

Wendy's

610 William Marks Way
View On Map
Moonlight Truck Food

Margaret Morrison St
View On Map
Point Brugge Cafe

401 Hastings St

Legume

1113 S Braddock Ave

Ma Provence

2032 Murray Ave
View On Map
Curry Away

247 Edgewood Ave
View On Map
Mediterranean Grill

5824 Forbes Ave

Greek Gourmet

2130 Murray Ave

Silk Pagoda Restaurant

967 Greenfield Ave

Restaurant Alexander

5840 Forward Ave

Bistro Management

185 E Waterfront Dr

Pinati Kosher Mediterranean Grill

2100 Murray Ave
View On Map
Mama Pepino's

607 William Marks Way

Bravo Cucina Italiana

250 W Bridge St

Pino's Contemporary Italian Restaurant & Wine Bar

6738 Reynolds St

Aiello's Pizza

2112 Murray Ave

Mineo's Pizza House

2128 Murray Ave

Park Pizza & Cream

7600 Forbes Ave
View On Map
Yokoso Japanese Steak House

153 E Bridge St

Sakura Teppanyaki & Sushi

5882 Forbes Ave

Sushi House

2130 Murray Ave

New Dumpling House Chinese

2138 Murray Ave

Zaw's Asian Food

2110 Murray Ave
View On Map
Green Pepper

2020 Murray Ave
View On Map
Cuzamil Restaurante Mexicano

2109 Murray Ave

Gran Agave

152 E Bridge St

Smoke Barbeque & Taqueria

225 E 8th Ave

Cozumel Mexican Restaurante

2109 Murray Ave

Salsarita's

152 E Bridge St
View On Map
Aladdin's Eatery

5878 Forbes Ave

Turkish Kebab House

5819 Forbes Ave

La Cucina Flegrea Regl Italian

2646 Mount Royal Rd
View On Map
Salvatore's Pizza House

612 Penn Ave

Napoli Pizzeria

2006 Murray Ave

Homestead Pizza

814 Amity St

UNO Pizzeria & Grill

205 E Waterfront Dr

Di Sallas' Pizza Parlor

948 E 8th Ave

Pizza Bellino

5839 Forbes Ave
View On Map
Hook Fish & Chicken

6960 5th Ave

Mitchell's Fish Market

185 W Waterfront Dr

Chengdu Gourmet

5840 Forward Ave

China House II

7400 Church St

Thai Bistro

120 Bakery Square Blvd
View On Map
Sukhothai Bistro

5813 Forbes Ave

Thai Cottage

1109 S Braddock Ave

Silk Elephant

1712 Murray Ave

Asiatique Thai Bistro

6525 Penn Ave

Bangkok Balcony

5846 Forbes Ave

Asiatique Thai Bistro

102 Bakery Square Blvd
View On Map
Milky Way

2120 Murray Ave

Tin Front Cafe

216 E 8th Ave

Sree's Foods

2103 Murray Ave
View On Map
Speedway

4420 Browns Hill Rd

Marathon

6680 Frankstown Ave

GetGo Gas Station

5801 Forward Ave

GetGo Gas Station

430 E Waterfront Dr
View On Map
Jay Becker Parking Service

6315 Forbes Ave
View On Map
Fifth and Bellefonte Bus Stop

-
View On Map
The Mansion at Maple Heights

5516 Maple Heights Rd

Cleft Of The Rock

501 E 9th Ave

Shady Side Bed & Breakfast

5516 Maple Heights Rd

Le Domaine at Shadyside

5516 Maple Heights Rd
View On Map
Show More