Best Time To Visit Winchester
Explore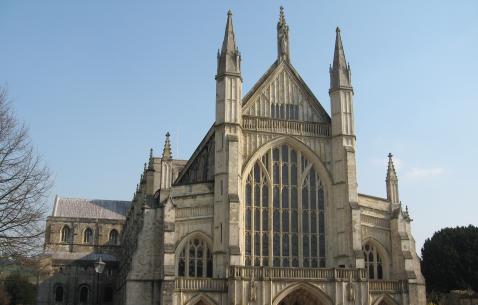 Best Time To Go To Winchester
Visiting Winchester for the first time? Here's the information on the best time to visit the city. Winchester UK experiences an oceanic climate. The average temperature in Winchester is around 10.2 °Celsius and the city receives about 763 millimeter of rainfall annually.
Summers: July is normally the warmest month in all of England. The summer season begins from April end onwards till mid-August.
Monsoons: The warm weather in Winchester takes a turn August end onwards as the city welcomes monsoons. The rainy season lasts from August end to December end/ January beginning.
Winters: Winters intermingle with monsoons as the temperatures begin to drop towards the mid November. The cold season lasts from November till April beginning.
The best time to visit Winchester would be between January and June. Having said that, no matter which season you visit, Winchester is a delight.
Best time to go to Winchester Attractions

: Everyday 10:00 AM - 3:00 PM
: Everyday 10:00 AM - 3:00 PM
: Everyday 10:00 AM - 3:00 PM
: Everyday 10:00 AM - 3:00 PM
: Everyday 10:00 AM - 3:00 PM
: Everyday 10:00 AM - 3:00 PM
: Everyday 10:00 AM - 3:00 PM
: Everyday 10:00 AM - 3:00 PM
: Everyday 10:00 AM - 3:00 PM
: Everyday 10:00 AM - 3:00 PM
: Everyday 10:00 AM - 3:00 PM
: Everyday 10:00 AM - 3:00 PM

: Monday to Saturday 10:00 AM - 3:00 PM; Sunday 10:00 AM - 3:00 PM
: Monday to Saturday 10:00 AM - 3:00 PM; Sunday 10:00 AM - 3:00 PM
: Monday to Saturday 10:00 AM - 3:00 PM; Sunday 10:00 AM - 3:00 PM
: Monday to Saturday 10:00 AM - 3:00 PM; Sunday 10:00 AM - 3:00 PM
: Monday to Saturday 10:00 AM - 3:00 PM; Sunday 10:00 AM - 3:00 PM
: Monday to Saturday 10:00 AM - 3:00 PM; Sunday 10:00 AM - 3:00 PM
: Monday to Saturday 10:00 AM - 3:00 PM; Sunday 10:00 AM - 3:00 PM
: Monday to Saturday 10:00 AM - 3:00 PM; Sunday 10:00 AM - 3:00 PM
: Monday to Saturday 10:00 AM - 3:00 PM; Sunday 10:00 AM - 3:00 PM
: Monday to Saturday 10:00 AM - 3:00 PM; Sunday 10:00 AM - 3:00 PM
: Monday to Saturday 10:00 AM - 3:00 PM; Sunday 10:00 AM - 3:00 PM
: Monday to Saturday 10:00 AM - 3:00 PM; Sunday 10:00 AM - 3:00 PM

: Everyday 10:00 AM - 2:00 PM
: Everyday 10:00 AM - 2:00 PM
: Everyday 10:00 AM - 2:00 PM
: Everyday 10:00 AM - 2:00 PM
: Everyday 10:00 AM - 2:00 PM
: Everyday 10:00 AM - 2:00 PM
: Everyday 10:00 AM - 2:00 PM
: Everyday 10:00 AM - 2:00 PM
: Everyday 10:00 AM - 2:00 PM
: Everyday 10:00 AM - 2:00 PM
: Everyday 10:00 AM - 2:00 PM
: Everyday 10:00 AM - 2:00 PM

:
:
:
: Everyday 10:00 AM - 3:00 PM
: Everyday 10:00 AM - 3:00 PM
: Everyday 10:00 AM - 3:00 PM
: Everyday 10:00 AM - 3:00 PM
: Everyday 10:00 AM - 3:00 PM
: Everyday 10:00 AM - 3:00 PM
: Everyday 10:00 AM - 3:00 PM
:
:

: Tuesday to Saturday 10:00 AM - 3:00 PM
: Tuesday to Saturday 10:00 AM - 3:00 PM
: Tuesday to Saturday 10:00 AM - 3:00 PM
: Monday to Saturday 10:00 AM - 3:00 PM
: Monday to Saturday 10:00 AM - 3:00 PM
: Everyday 10:00 AM - 3:00 PM
: Everyday 10:00 AM - 3:00 PM
:
:
:

: Everyday 10:00 AM - 4:00 PM
: Everyday 10:00 AM - 4:00 PM
: Everyday 10:00 AM - 4:00 PM
: Everyday 10:00 AM - 4:00 PM
: Everyday 10:00 AM - 4:00 PM
: Everyday 10:00 AM - 4:00 PM
: Everyday 10:00 AM - 4:00 PM
: Everyday 10:00 AM - 4:00 PM
: Everyday 10:00 AM - 4:00 PM
: Everyday 10:00 AM - 4:00 PM
: Everyday 10:00 AM - 4:00 PM
: Everyday 10:00 AM - 4:00 PM

: Monday to Saturday 10:00 AM - 3:00 PM
: Monday to Saturday 10:00 AM - 3:00 PM
: Monday to Saturday 10:00 AM - 3:00 PM
: Monday to Saturday 10:00 AM - 3:00 PM
: Monday to Saturday 10:00 AM - 3:00 PM
: Monday to Saturday 10:00 AM - 3:00 PM
: Monday to Saturday 10:00 AM - 3:00 PM
: Monday to Saturday 10:00 AM - 3:00 PM
: Monday to Saturday 10:00 AM - 3:00 PM
: Monday to Saturday 10:00 AM - 3:00 PM
: Monday to Saturday 10:00 AM - 3:00 PM
: Monday to Saturday 10:00 AM - 3:00 PM

: Everyday 9:00 AM - 6:00 PM
: Everyday 9:00 AM - 6:00 PM
: Everyday 9:00 AM - 6:00 PM
: Everyday 9:00 AM - 6:00 PM
: Everyday 9:00 AM - 6:00 PM
: Everyday 9:00 AM - 6:00 PM
: Everyday 9:00 AM - 6:00 PM
: Everyday 9:00 AM - 6:00 PM
: Everyday 9:00 AM - 6:00 PM
: Everyday 9:00 AM - 6:00 PM
: Everyday 9:00 AM - 6:00 PM
: Everyday 9:00 AM - 6:00 PM

: Monday to Saturday 10:30 AM - 3:00 PM
: Monday to Saturday 10:30 AM - 3:00 PM
: Monday to Saturday 10:30 AM - 3:00 PM
: Monday to Saturday 10:00 AM - 4:00 PM; Sunday 1:00 PM - 4:00 PM
: Monday to Saturday 10:00 AM - 4:00 PM; Sunday 1:00 PM - 4:00 PM
: Monday to Saturday 10:00 AM - 4:00 PM; Sunday 1:00 PM - 4:00 PM
: Monday to Saturday 10:00 AM - 4:00 PM; Sunday 1:00 PM - 4:00 PM
: Monday to Saturday 10:00 AM - 4:00 PM; Sunday 1:00 PM - 4:00 PM
: Monday to Saturday 10:00 AM - 4:00 PM; Sunday 1:00 PM - 4:00 PM
: Monday to Saturday 10:00 AM - 4:00 PM; Sunday 1:00 PM - 4:00 PM
: Monday to Saturday 10:30 AM - 3:00 PM
: Monday to Saturday 10:30 AM - 3:00 PM

: Everyday 9:00 AM - 4:00 PM
: Everyday 9:00 AM - 4:00 PM
: Everyday 9:00 AM - 4:00 PM
: Everyday 9:00 AM - 4:00 PM
: Everyday 9:00 AM - 4:00 PM
: Everyday 9:00 AM - 4:00 PM
: Everyday 9:00 AM - 4:00 PM
: Everyday 9:00 AM - 4:00 PM
: Everyday 9:00 AM - 4:00 PM
: Everyday 9:00 AM - 4:00 PM
: Everyday 9:00 AM - 4:00 PM
: Everyday 9:00 AM - 4:00 PM

: Everyday 9:00 AM - 6:00 PM
: Everyday 9:00 AM - 6:00 PM
: Everyday 9:00 AM - 6:00 PM
: Everyday 9:00 AM - 6:00 PM
: Everyday 9:00 AM - 6:00 PM
: Everyday 9:00 AM - 6:00 PM
: Everyday 9:00 AM - 6:00 PM
: Everyday 9:00 AM - 6:00 PM
: Everyday 9:00 AM - 6:00 PM
: Everyday 9:00 AM - 6:00 PM
: Everyday 9:00 AM - 6:00 PM
: Everyday 9:00 AM - 6:00 PM

: Monday to Friday 8:00 AM - 6:00 PM
: Monday to Friday 8:00 AM - 6:00 PM
: Monday to Friday 8:00 AM - 6:00 PM
: Monday to Friday 8:00 AM - 6:00 PM
: Monday to Friday 8:00 AM - 6:00 PM
: Monday to Friday 8:00 AM - 6:00 PM
: Monday to Friday 8:00 AM - 6:00 PM
: Monday to Friday 8:00 AM - 6:00 PM
: Monday to Friday 8:00 AM - 6:00 PM
: Monday to Friday 8:00 AM - 6:00 PM
: Monday to Friday 8:00 AM - 6:00 PM
: Monday to Friday 8:00 AM - 6:00 PM

: Tuesday to Saturday 10:00 AM - 3:00 PM; Sunday 10:00 AM - 3:00 PM
: Tuesday to Saturday 10:00 AM - 3:00 PM; Sunday 10:00 AM - 3:00 PM
: Tuesday to Saturday 10:00 AM - 3:00 PM; Sunday 10:00 AM - 3:00 PM
: Monday to Saturday 10:00 AM - 3:00 PM; Sunday 10:00 AM - 3:00 PM
: Monday to Saturday 10:00 AM - 3:00 PM; Sunday 10:00 AM - 3:00 PM
: Monday to Saturday 10:00 AM - 3:00 PM; Sunday 10:00 AM - 3:00 PM
: Monday to Saturday 10:00 AM - 3:00 PM; Sunday 10:00 AM - 3:00 PM
: Monday to Saturday 10:00 AM - 3:00 PM; Sunday 10:00 AM - 3:00 PM
: Monday to Saturday 10:00 AM - 3:00 PM; Sunday 10:00 AM - 3:00 PM
: Monday to Saturday 10:00 AM - 3:00 PM; Sunday 10:00 AM - 3:00 PM
: Tuesday to Saturday 10:00 AM - 3:00 PM; Sunday 10:00 AM - 3:00 PM
: Tuesday to Saturday 10:00 AM - 3:00 PM; Sunday 10:00 AM - 3:00 PM

: Everyday 10:00 AM - 2:00 PM
: Everyday 10:00 AM - 2:00 PM
: Everyday 10:00 AM - 2:00 PM
: Everyday 10:00 AM - 2:00 PM
: Everyday 10:00 AM - 2:00 PM
: Everyday 10:00 AM - 2:00 PM
: Everyday 10:00 AM - 2:00 PM
: Everyday 10:00 AM - 2:00 PM
: Everyday 10:00 AM - 2:00 PM
: Everyday 10:00 AM - 2:00 PM
: Everyday 10:00 AM - 2:00 PM
: Everyday 10:00 AM - 2:00 PM

: Monday to Friday 9:00 AM - 4:00 PM
: Monday to Friday 9:00 AM - 4:00 PM
: Monday to Friday 9:00 AM - 4:00 PM
: Monday to Friday 9:00 AM - 4:00 PM
: Monday to Friday 9:00 AM - 4:00 PM
: Monday to Friday 9:00 AM - 4:00 PM
: Monday to Friday 9:00 AM - 4:00 PM
: Monday to Friday 9:00 AM - 4:00 PM
: Monday to Friday 9:00 AM - 4:00 PM
: Monday to Friday 9:00 AM - 4:00 PM
: Monday to Friday 9:00 AM - 4:00 PM
: Monday to Friday 9:00 AM - 4:00 PM

: Everyday 9:00 AM - 6:00 PM
: Everyday 9:00 AM - 6:00 PM
: Everyday 9:00 AM - 6:00 PM
: Everyday 9:00 AM - 6:00 PM
: Everyday 9:00 AM - 6:00 PM
: Everyday 9:00 AM - 6:00 PM
: Everyday 9:00 AM - 6:00 PM
: Everyday 9:00 AM - 6:00 PM
: Everyday 9:00 AM - 6:00 PM
: Everyday 9:00 AM - 6:00 PM
: Everyday 9:00 AM - 6:00 PM
: Everyday 9:00 AM - 6:00 PM

: Everyday 9:00 AM - 3:00 PM
: Everyday 9:00 AM - 3:00 PM
: Everyday 9:00 AM - 3:00 PM
: Everyday 9:00 AM - 3:00 PM
: Everyday 9:00 AM - 3:00 PM
: Everyday 9:00 AM - 3:00 PM
: Everyday 9:00 AM - 3:00 PM
: Everyday 9:00 AM - 3:00 PM
: Everyday 9:00 AM - 3:00 PM
: Everyday 9:00 AM - 3:00 PM
: Everyday 9:00 AM - 3:00 PM
: Everyday 9:00 AM - 3:00 PM

:
:
: Saturday 10:00 AM - 4:00 PM; Sunday 10:00 AM - 4:00 PM
: Saturday 10:00 AM - 4:00 PM; Sunday 10:00 AM - 4:00 PM
: Saturday 10:00 AM - 4:00 PM; Sunday 10:00 AM - 4:00 PM
: Saturday 10:00 AM - 4:00 PM; Sunday 10:00 AM - 4:00 PM
: Monday to Saturday 10:00 AM - 4:00 PM; Sunday 10:00 AM - 4:00 PM
: Monday to Saturday 10:00 AM - 4:00 PM; Sunday 10:00 AM - 4:00 PM
: Saturday 10:00 AM - 4:00 PM; Sunday 10:00 AM - 4:00 PM
: Saturday 10:00 AM - 4:00 PM; Sunday 10:00 AM - 4:00 PM
:
:

: Everyday 9:00 AM - 2:00 PM
: Everyday 9:00 AM - 2:00 PM
: Everyday 9:00 AM - 2:00 PM
: Everyday 9:00 AM - 2:00 PM
: Everyday 9:00 AM - 2:00 PM
: Everyday 9:00 AM - 2:00 PM
: Everyday 9:00 AM - 2:00 PM
: Everyday 9:00 AM - 2:00 PM
: Everyday 9:00 AM - 2:00 PM
: Everyday 9:00 AM - 2:00 PM
: Everyday 9:00 AM - 2:00 PM
: Everyday 9:00 AM - 2:00 PM

: Everyday 24 Hrs
: Everyday 24 Hrs
: Everyday 24 Hrs
: Everyday 24 Hrs
: Everyday 24 Hrs
: Everyday 24 Hrs
: Everyday 24 Hrs
: Everyday 24 Hrs
: Everyday 24 Hrs
: Everyday 24 Hrs
: Everyday 24 Hrs
: Everyday 24 Hrs

: Everyday 24 Hrs
: Everyday 24 Hrs
: Everyday 24 Hrs
: Everyday 24 Hrs
: Everyday 24 Hrs
: Everyday 24 Hrs
: Everyday 24 Hrs
: Everyday 24 Hrs
: Everyday 24 Hrs
: Everyday 24 Hrs
: Everyday 24 Hrs
: Everyday 24 Hrs

: Everyday 24 Hrs
: Everyday 24 Hrs
: Everyday 24 Hrs
: Everyday 24 Hrs
: Everyday 24 Hrs
: Everyday 24 Hrs
: Everyday 24 Hrs
: Everyday 24 Hrs
: Everyday 24 Hrs
: Everyday 24 Hrs
: Everyday 24 Hrs
: Everyday 24 Hrs

: Everyday 24 Hrs
: Everyday 24 Hrs
: Everyday 24 Hrs
: Everyday 24 Hrs
: Everyday 24 Hrs
: Everyday 24 Hrs
: Everyday 24 Hrs
: Everyday 24 Hrs
: Everyday 24 Hrs
: Everyday 24 Hrs
: Everyday 24 Hrs
: Everyday 24 Hrs

: Everyday 24 Hrs
: Everyday 24 Hrs
: Everyday 24 Hrs
: Everyday 24 Hrs
: Everyday 24 Hrs
: Everyday 24 Hrs
: Everyday 24 Hrs
: Everyday 24 Hrs
: Everyday 24 Hrs
: Everyday 24 Hrs
: Everyday 24 Hrs
: Everyday 24 Hrs

: Everyday 24 Hrs
: Everyday 24 Hrs
: Everyday 24 Hrs
: Everyday 24 Hrs
: Everyday 24 Hrs
: Everyday 24 Hrs
: Everyday 24 Hrs
: Everyday 24 Hrs
: Everyday 24 Hrs
: Everyday 24 Hrs
: Everyday 24 Hrs
: Everyday 24 Hrs

: Everyday 24 Hrs
: Everyday 24 Hrs
: Everyday 24 Hrs
: Everyday 24 Hrs
: Everyday 24 Hrs
: Everyday 24 Hrs
: Everyday 24 Hrs
: Everyday 24 Hrs
: Everyday 24 Hrs
: Everyday 24 Hrs
: Everyday 24 Hrs
: Everyday 24 Hrs

: Everyday 24 Hrs
: Everyday 24 Hrs
: Everyday 24 Hrs
: Everyday 24 Hrs
: Everyday 24 Hrs
: Everyday 24 Hrs
: Everyday 24 Hrs
: Everyday 24 Hrs
: Everyday 24 Hrs
: Everyday 24 Hrs
: Everyday 24 Hrs
: Everyday 24 Hrs

: Everyday 24 Hrs
: Everyday 24 Hrs
: Everyday 24 Hrs
: Everyday 24 Hrs
: Everyday 24 Hrs
: Everyday 24 Hrs
: Everyday 24 Hrs
: Everyday 24 Hrs
: Everyday 24 Hrs
: Everyday 24 Hrs
: Everyday 24 Hrs
: Everyday 24 Hrs

: Everyday 24 Hrs
: Everyday 24 Hrs
: Everyday 24 Hrs
: Everyday 24 Hrs
: Everyday 24 Hrs
: Everyday 24 Hrs
: Everyday 24 Hrs
: Everyday 24 Hrs
: Everyday 24 Hrs
: Everyday 24 Hrs
: Everyday 24 Hrs
: Everyday 24 Hrs