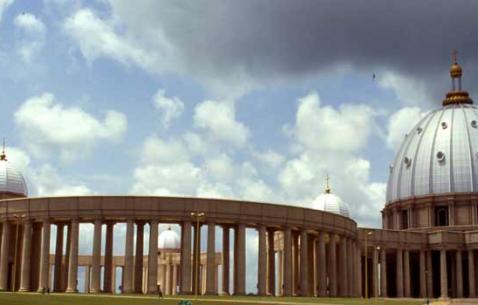 Yamoussoukro (/ˌjæmʊˈsuːkroʊ/) is the political capital and administrative capital city of Ivory Coast and an autonomous district of the country. As of the 2014 preliminary census, the district had a population of 355,573 inhabitants. Located 240 kilometers (150 mi) north-west of Abidjan, the administrative centre on the coast, upon rolling hills and plains, the municipality covers 3,500 square kilometers (1,400 sq mi). Prior to 2011, what is now the district of Yamoussoukro was part of Lacs Region. The district was created in 2011 and is split into departments of Attiégouakro and Yamoussoukro. In total, the district contains 169 settlements. Yamoussoukro is a sub-prefecture in Yamoussoukro Department and is also a commune: since 2012, it has been the sole commune in the autonomous district of Yamoussoukro. In the 2014 census, the autonomous district had a population of 355,573. The city of Yamoussoukro (as opposed to the district) had 281,071 inhabitants, making it the fifth-most populous city in Ivory Coast. The current governor of the district is Augustin Thiam. Yamoussoukro is pronounced "Yam-So-Kro" by Ivorians. It is rarer to hear "Ya-Mu-So-Kro"; the second u is silent.
Wikipedia
in offers a unique experience to travellers. Get in the character of the city, this city requires at least of 1 to 2 number of days of exploration.
Yes,it is that simple really! Enjoy your trip! Keep travelling!
Yamoussoukro Trip Planner
Plan your customized day by day trip plan for Yamoussoukro. Choose from various experinces categories as adventure, romantic and family and kids friendly for your trip using using Yamoussoukro trip planner.