Best Time To Visit Yangon
Explore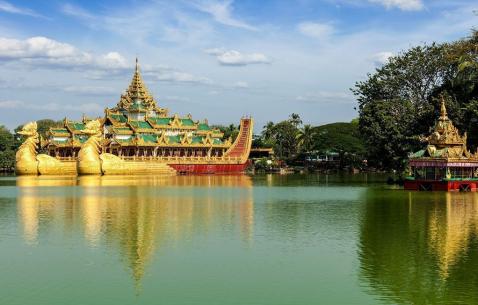 Best Time To Go To Yangon
Like most of the Southeast Asian destinations, Yangon has three distinct seasons:
Rainy Season: June to October, the Yangin weather is monsoonal with frequent rainfall and a climate not ideal for exploring the city.
Winter: November to February; the winters in Yangon are dry and cold. Since this season experiences lowest humidity levels, this is a high season with large number of tourists.
Summer: March to May; a hot and dry summer makes it not so ideal time to visit Yangon. Although hot, this is the time when most of the prominent local festivals take place!
The best time to visit Yangon in Winter- November to February.
Best time to go to Yangon Attractions

: Everyday 4:00 AM - 8:00 PM
: Everyday 4:00 AM - 8:00 PM
: Everyday 4:00 AM - 8:00 PM
: Everyday 4:00 AM - 8:00 PM
: Everyday 4:00 AM - 8:00 PM
: Everyday 4:00 AM - 8:00 PM
: Everyday 4:00 AM - 8:00 PM
: Everyday 4:00 AM - 8:00 PM
: Everyday 4:00 AM - 8:00 PM
: Everyday 4:00 AM - 8:00 PM
: Everyday 4:00 AM - 8:00 PM
: Everyday 4:00 AM - 8:00 PM

: Everyday 7:00 AM - 4:00 PM
: Everyday 7:00 AM - 4:00 PM
: Everyday 7:00 AM - 4:00 PM
: Everyday 7:00 AM - 4:00 PM
: Everyday 7:00 AM - 4:00 PM
: Everyday 7:00 AM - 4:00 PM
: Everyday 7:00 AM - 4:00 PM
: Everyday 7:00 AM - 4:00 PM
: Everyday 7:00 AM - 4:00 PM
: Everyday 7:00 AM - 4:00 PM
: Everyday 7:00 AM - 4:00 PM
: Everyday 7:00 AM - 4:00 PM

: Everyday 6:00 AM - 6:00 PM
: Everyday 6:00 AM - 6:00 PM
: Everyday 6:00 AM - 6:00 PM
: Everyday 6:00 AM - 6:00 PM
: Everyday 6:00 AM - 6:00 PM
: Everyday 6:00 AM - 6:00 PM
: Everyday 6:00 AM - 6:00 PM
: Everyday 6:00 AM - 6:00 PM
: Everyday 6:00 AM - 6:00 PM
: Everyday 6:00 AM - 6:00 PM
: Everyday 6:00 AM - 6:00 PM
: Everyday 6:00 AM - 6:00 PM

: Everyday 6:00 AM - 7:00 PM
: Everyday 6:00 AM - 7:00 PM
: Everyday 6:00 AM - 7:00 PM
: Everyday 6:00 AM - 7:00 PM
: Everyday 6:00 AM - 7:00 PM
: Everyday 6:00 AM - 7:00 PM
: Everyday 6:00 AM - 7:00 PM
: Everyday 6:00 AM - 7:00 PM
: Everyday 6:00 AM - 7:00 PM
: Everyday 6:00 AM - 7:00 PM
: Everyday 6:00 AM - 7:00 PM
: Everyday 6:00 AM - 7:00 PM

: Everyday 7:00 AM - 2:00 PM
: Everyday 7:00 AM - 2:00 PM
: Everyday 7:00 AM - 2:00 PM
: Everyday 7:00 AM - 2:00 PM
: Everyday 7:00 AM - 2:00 PM
: Everyday 7:00 AM - 2:00 PM
: Everyday 7:00 AM - 2:00 PM
: Everyday 7:00 AM - 2:00 PM
: Everyday 7:00 AM - 2:00 PM
: Everyday 7:00 AM - 2:00 PM
: Everyday 7:00 AM - 2:00 PM
: Everyday 7:00 AM - 2:00 PM

: Everyday 5:00 AM - 6:00 PM
: Everyday 5:00 AM - 6:00 PM
: Everyday 5:00 AM - 6:00 PM
: Everyday 5:00 AM - 6:00 PM
: Everyday 5:00 AM - 6:00 PM
: Everyday 5:00 AM - 6:00 PM
: Everyday 5:00 AM - 6:00 PM
: Everyday 5:00 AM - 6:00 PM
: Everyday 5:00 AM - 6:00 PM
: Everyday 5:00 AM - 6:00 PM
: Everyday 5:00 AM - 6:00 PM
: Everyday 5:00 AM - 6:00 PM

: Everyday 9:00 AM - 11:00 AM
: Everyday 9:00 AM - 11:00 AM
: Everyday 9:00 AM - 11:00 AM
: Everyday 9:00 AM - 11:00 AM
: Everyday 9:00 AM - 11:00 AM
: Everyday 9:00 AM - 11:00 AM
: Everyday 9:00 AM - 11:00 AM
: Everyday 9:00 AM - 11:00 AM
: Everyday 9:00 AM - 11:00 AM
: Everyday 9:00 AM - 11:00 AM
: Everyday 9:00 AM - 11:00 AM
: Everyday 9:00 AM - 11:00 AM

: Everyday 5:00 AM - 7:00 PM
: Everyday 5:00 AM - 7:00 PM
: Everyday 5:00 AM - 7:00 PM
: Everyday 5:00 AM - 7:00 PM
: Everyday 5:00 AM - 7:00 PM
: Everyday 5:00 AM - 7:00 PM
: Everyday 5:00 AM - 7:00 PM
: Everyday 5:00 AM - 7:00 PM
: Everyday 5:00 AM - 7:00 PM
: Everyday 5:00 AM - 7:00 PM
: Everyday 5:00 AM - 7:00 PM
: Everyday 5:00 AM - 7:00 PM

: Everyday 9:00 AM - 4:00 PM
: Everyday 9:00 AM - 4:00 PM
: Everyday 9:00 AM - 4:00 PM
: Everyday 9:00 AM - 4:00 PM
: Everyday 9:00 AM - 4:00 PM
: Everyday 9:00 AM - 4:00 PM
: Everyday 9:00 AM - 4:00 PM
: Everyday 9:00 AM - 4:00 PM
: Everyday 9:00 AM - 4:00 PM
: Everyday 9:00 AM - 4:00 PM
: Everyday 9:00 AM - 4:00 PM
: Everyday 9:00 AM - 4:00 PM

: Everyday 6:00 AM - 9:00 AM
: Everyday 6:00 AM - 9:00 AM
: Everyday 6:00 AM - 9:00 AM
: Everyday 6:00 AM - 9:00 AM
: Everyday 6:00 AM - 9:00 AM
: Everyday 6:00 AM - 9:00 AM
: Everyday 6:00 AM - 9:00 AM
: Everyday 6:00 AM - 9:00 AM
: Everyday 6:00 AM - 9:00 AM
: Everyday 6:00 AM - 9:00 AM
: Everyday 6:00 AM - 9:00 AM
: Everyday 6:00 AM - 9:00 AM

: Everyday 6:00 AM - 5:00 PM
: Everyday 6:00 AM - 5:00 PM
: Everyday 6:00 AM - 5:00 PM
: Everyday 6:00 AM - 5:00 PM
: Everyday 6:00 AM - 5:00 PM
: Everyday 6:00 AM - 5:00 PM
: Everyday 6:00 AM - 5:00 PM
: Everyday 6:00 AM - 5:00 PM
: Everyday 6:00 AM - 5:00 PM
: Everyday 6:00 AM - 5:00 PM
: Everyday 6:00 AM - 5:00 PM
: Everyday 6:00 AM - 5:00 PM

: Everyday 7:00 AM - 9:00 AM
: Everyday 7:00 AM - 9:00 AM
: Everyday 7:00 AM - 9:00 AM
: Everyday 7:00 AM - 9:00 AM
: Everyday 7:00 AM - 9:00 AM
: Everyday 7:00 AM - 9:00 AM
: Everyday 7:00 AM - 9:00 AM
: Everyday 7:00 AM - 9:00 AM
: Everyday 7:00 AM - 9:00 AM
: Everyday 7:00 AM - 9:00 AM
: Everyday 7:00 AM - 9:00 AM
: Everyday 7:00 AM - 9:00 AM

: Everyday 11:00 AM - 2:00 PM
: Everyday 11:00 AM - 2:00 PM
: Everyday 11:00 AM - 2:00 PM
: Everyday 11:00 AM - 2:00 PM
: Everyday 11:00 AM - 2:00 PM
: Everyday 11:00 AM - 2:00 PM
: Everyday 11:00 AM - 2:00 PM
: Everyday 11:00 AM - 2:00 PM
: Everyday 11:00 AM - 2:00 PM
: Everyday 11:00 AM - 2:00 PM
: Everyday 11:00 AM - 2:00 PM
: Everyday 11:00 AM - 2:00 PM

: Everyday 9:00 AM - 5:00 PM
: Everyday 9:00 AM - 5:00 PM
: Everyday 9:00 AM - 5:00 PM
: Everyday 9:00 AM - 5:00 PM
: Everyday 9:00 AM - 5:00 PM
: Everyday 9:00 AM - 5:00 PM
: Everyday 9:00 AM - 5:00 PM
: Everyday 9:00 AM - 5:00 PM
: Everyday 9:00 AM - 5:00 PM
: Everyday 9:00 AM - 5:00 PM
: Everyday 9:00 AM - 5:00 PM
: Everyday 9:00 AM - 5:00 PM

: Everyday 11:00 AM - 2:00 PM
: Everyday 11:00 AM - 2:00 PM
: Everyday 11:00 AM - 2:00 PM
: Everyday 11:00 AM - 2:00 PM
: Everyday 11:00 AM - 2:00 PM
: Everyday 11:00 AM - 2:00 PM
: Everyday 11:00 AM - 2:00 PM
: Everyday 11:00 AM - 2:00 PM
: Everyday 11:00 AM - 2:00 PM
: Everyday 11:00 AM - 2:00 PM
: Everyday 11:00 AM - 2:00 PM
: Everyday 11:00 AM - 2:00 PM

: Everyday 6:00 AM - 9:00 AM
: Everyday 6:00 AM - 9:00 AM
: Everyday 6:00 AM - 9:00 AM
: Everyday 6:00 AM - 9:00 AM
: Everyday 6:00 AM - 9:00 AM
: Everyday 6:00 AM - 9:00 AM
: Everyday 6:00 AM - 9:00 AM
: Everyday 6:00 AM - 9:00 AM
: Everyday 6:00 AM - 9:00 AM
: Everyday 6:00 AM - 9:00 AM
: Everyday 6:00 AM - 9:00 AM
: Everyday 6:00 AM - 9:00 AM

: Everyday 11:00 AM - 3:00 PM
: Everyday 11:00 AM - 3:00 PM
: Everyday 11:00 AM - 3:00 PM
: Everyday 11:00 AM - 3:00 PM
: Everyday 11:00 AM - 3:00 PM
: Everyday 11:00 AM - 3:00 PM
: Everyday 11:00 AM - 3:00 PM
: Everyday 11:00 AM - 3:00 PM
: Everyday 11:00 AM - 3:00 PM
: Everyday 11:00 AM - 3:00 PM
: Everyday 11:00 AM - 3:00 PM
: Everyday 11:00 AM - 3:00 PM

: Everyday 8:00 AM - 6:00 PM
: Everyday 8:00 AM - 6:00 PM
: Everyday 8:00 AM - 6:00 PM
: Everyday 8:00 AM - 6:00 PM
: Everyday 8:00 AM - 6:00 PM
: Everyday 8:00 AM - 6:00 PM
: Everyday 8:00 AM - 6:00 PM
: Everyday 8:00 AM - 6:00 PM
: Everyday 8:00 AM - 6:00 PM
: Everyday 8:00 AM - 6:00 PM
: Everyday 8:00 AM - 6:00 PM
: Everyday 8:00 AM - 6:00 PM

: Everyday 8:00 AM - 5:00 PM
: Everyday 8:00 AM - 5:00 PM
: Everyday 8:00 AM - 5:00 PM
: Everyday 8:00 AM - 5:00 PM
: Everyday 8:00 AM - 5:00 PM
: Everyday 8:00 AM - 5:00 PM
: Everyday 8:00 AM - 5:00 PM
: Everyday 8:00 AM - 5:00 PM
: Everyday 8:00 AM - 5:00 PM
: Everyday 8:00 AM - 5:00 PM
: Everyday 8:00 AM - 5:00 PM
: Everyday 8:00 AM - 5:00 PM

: Everyday 7:00 AM - 3:00 PM
: Everyday 7:00 AM - 3:00 PM
: Everyday 7:00 AM - 3:00 PM
: Everyday 7:00 AM - 3:00 PM
: Everyday 7:00 AM - 3:00 PM
: Everyday 7:00 AM - 3:00 PM
: Everyday 7:00 AM - 3:00 PM
: Everyday 7:00 AM - 3:00 PM
: Everyday 7:00 AM - 3:00 PM
: Everyday 7:00 AM - 3:00 PM
: Everyday 7:00 AM - 3:00 PM
: Everyday 7:00 AM - 3:00 PM

: Everyday 8:00 AM - 5:00 PM
: Everyday 8:00 AM - 5:00 PM
: Everyday 8:00 AM - 5:00 PM
: Everyday 8:00 AM - 5:00 PM
: Everyday 8:00 AM - 5:00 PM
: Everyday 8:00 AM - 5:00 PM
: Everyday 8:00 AM - 5:00 PM
: Everyday 8:00 AM - 5:00 PM
: Everyday 8:00 AM - 5:00 PM
: Everyday 8:00 AM - 5:00 PM
: Everyday 8:00 AM - 5:00 PM
: Everyday 8:00 AM - 5:00 PM

: Tuesday to Sunday 10:00 AM - 3:00 PM
: Tuesday to Sunday 10:00 AM - 3:00 PM
: Tuesday to Sunday 10:00 AM - 3:00 PM
: Tuesday to Sunday 10:00 AM - 3:00 PM
: Tuesday to Sunday 10:00 AM - 3:00 PM
: Tuesday to Sunday 10:00 AM - 3:00 PM
: Tuesday to Sunday 10:00 AM - 3:00 PM
: Tuesday to Sunday 10:00 AM - 3:00 PM
: Tuesday to Sunday 10:00 AM - 3:00 PM
: Tuesday to Sunday 10:00 AM - 3:00 PM
: Tuesday to Sunday 10:00 AM - 3:00 PM
: Tuesday to Sunday 10:00 AM - 3:00 PM

: Everyday 9:00 AM - 2:00 PM
: Everyday 9:00 AM - 2:00 PM
: Everyday 9:00 AM - 2:00 PM
: Everyday 9:00 AM - 2:00 PM
: Everyday 9:00 AM - 2:00 PM
: Everyday 9:00 AM - 2:00 PM
: Everyday 9:00 AM - 2:00 PM
: Everyday 9:00 AM - 2:00 PM
: Everyday 9:00 AM - 2:00 PM
: Everyday 9:00 AM - 2:00 PM
: Everyday 9:00 AM - 2:00 PM
: Everyday 9:00 AM - 2:00 PM

: Everyday 8:00 AM - 1:00 PM
: Everyday 8:00 AM - 1:00 PM
: Everyday 8:00 AM - 1:00 PM
: Everyday 8:00 AM - 1:00 PM
: Everyday 8:00 AM - 1:00 PM
: Everyday 8:00 AM - 1:00 PM
: Everyday 8:00 AM - 1:00 PM
: Everyday 8:00 AM - 1:00 PM
: Everyday 8:00 AM - 1:00 PM
: Everyday 8:00 AM - 1:00 PM
: Everyday 8:00 AM - 1:00 PM
: Everyday 8:00 AM - 1:00 PM

: Everyday 10:00 AM - 1:00 PM
: Everyday 10:00 AM - 1:00 PM
: Everyday 10:00 AM - 1:00 PM
: Everyday 10:00 AM - 1:00 PM
: Everyday 10:00 AM - 1:00 PM
: Everyday 10:00 AM - 1:00 PM
: Everyday 10:00 AM - 1:00 PM
: Everyday 10:00 AM - 1:00 PM
: Everyday 10:00 AM - 1:00 PM
: Everyday 10:00 AM - 1:00 PM
: Everyday 10:00 AM - 1:00 PM
: Everyday 10:00 AM - 1:00 PM

: Everyday 7:00 AM - 6:00 PM
: Everyday 7:00 AM - 6:00 PM
: Everyday 7:00 AM - 6:00 PM
: Everyday 7:00 AM - 6:00 PM
: Everyday 7:00 AM - 6:00 PM
: Everyday 7:00 AM - 6:00 PM
: Everyday 7:00 AM - 6:00 PM
: Everyday 7:00 AM - 6:00 PM
: Everyday 7:00 AM - 6:00 PM
: Everyday 7:00 AM - 6:00 PM
: Everyday 7:00 AM - 6:00 PM
: Everyday 7:00 AM - 6:00 PM