Best Time To Visit Yercaud
Explore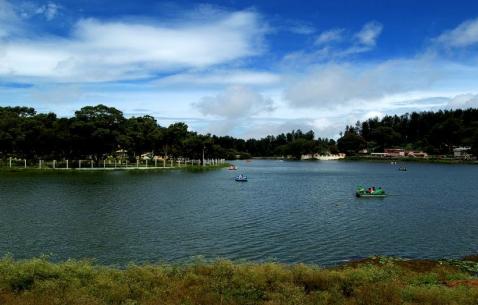 Best Time To Go To Yercaud
Yercaud experiences a humid subtropical climate that is marked by a pleasant climate throughout the year.
Summer (March - June): The coffee plantations in Yercaud come to life during the time of Summer with the temperature ranging from 16 to 30 degree Celsius. Summer also sees a 7-day festival that is complete with flower shows and fairs.
Monsoon (July - September): Yercaud experiences moderate showers during the time of Monsoon and it is difficult to visit most of the attractions during this time.
Winter (October - February): Winters in Yercaud are mild and there is a fair amount of mist clouding the place. The average temperature in winter ranges from 12 to 24 degree Celsius.
The peak and the best time to visit Yercaud is during the summer season, from March to June. But it is also the time, the tourists visit the place in huge numbers and the price of the accommodations are at a sky high. Alternatively, you can visit Yercaud during the offseasonof Winter. The place is less crowded and there are plenty of deals too. Avoid visiting Yercaud during the time of the monsoons.
Best time to go to Yercaud Attractions

: Everyday 9:00 AM - 5:00 PM
: Everyday 9:00 AM - 5:00 PM
: Everyday 9:00 AM - 5:00 PM
: Everyday 9:00 AM - 5:00 PM
: Everyday 9:00 AM - 5:00 PM
: Everyday 9:00 AM - 5:00 PM
: Everyday 9:00 AM - 5:00 PM
: Everyday 9:00 AM - 5:00 PM
: Everyday 9:00 AM - 5:00 PM
: Everyday 9:00 AM - 5:00 PM
: Everyday 9:00 AM - 5:00 PM
: Everyday 9:00 AM - 5:00 PM

: Everyday 9:00 AM - 4:00 PM
: Everyday 9:00 AM - 4:00 PM
: Everyday 9:00 AM - 4:00 PM
: Everyday 9:00 AM - 4:00 PM
: Everyday 9:00 AM - 4:00 PM
: Everyday 9:00 AM - 4:00 PM
: Everyday 9:00 AM - 4:00 PM
: Everyday 9:00 AM - 4:00 PM
: Everyday 9:00 AM - 4:00 PM
: Everyday 9:00 AM - 4:00 PM
: Everyday 9:00 AM - 4:00 PM
: Everyday 9:00 AM - 4:00 PM

: Everyday 6:00 AM - 4:00 PM
: Everyday 6:00 AM - 4:00 PM
: Everyday 6:00 AM - 4:00 PM
: Everyday 6:00 AM - 4:00 PM
: Everyday 6:00 AM - 4:00 PM
: Everyday 6:00 AM - 4:00 PM
: Everyday 6:00 AM - 4:00 PM
: Everyday 6:00 AM - 4:00 PM
: Everyday 6:00 AM - 4:00 PM
: Everyday 6:00 AM - 4:00 PM
: Everyday 6:00 AM - 4:00 PM
: Everyday 6:00 AM - 4:00 PM

: Everyday 8:00 AM - 10:00 PM
: Everyday 8:00 AM - 10:00 PM
: Everyday 8:00 AM - 10:00 PM
: Everyday 8:00 AM - 10:00 PM
: Everyday 8:00 AM - 10:00 PM
: Everyday 8:00 AM - 10:00 PM
: Everyday 8:00 AM - 10:00 PM
: Everyday 8:00 AM - 10:00 PM
: Everyday 8:00 AM - 10:00 PM
: Everyday 8:00 AM - 10:00 PM
: Everyday 8:00 AM - 10:00 PM
: Everyday 8:00 AM - 10:00 PM

: Everyday 8:00 AM - 5:00 PM
: Everyday 8:00 AM - 5:00 PM
: Everyday 8:00 AM - 5:00 PM
: Everyday 8:00 AM - 5:00 PM
: Everyday 8:00 AM - 5:00 PM
: Everyday 8:00 AM - 5:00 PM
: Everyday 8:00 AM - 5:00 PM
: Everyday 8:00 AM - 5:00 PM
: Everyday 8:00 AM - 5:00 PM
: Everyday 8:00 AM - 5:00 PM
: Everyday 8:00 AM - 5:00 PM
: Everyday 8:00 AM - 5:00 PM

: Everyday 9:00 AM - 2:00 PM
: Everyday 9:00 AM - 2:00 PM
: Everyday 9:00 AM - 2:00 PM
: Everyday 9:00 AM - 2:00 PM
: Everyday 9:00 AM - 2:00 PM
: Everyday 9:00 AM - 2:00 PM
: Everyday 9:00 AM - 2:00 PM
: Everyday 9:00 AM - 2:00 PM
: Everyday 9:00 AM - 2:00 PM
: Everyday 9:00 AM - 2:00 PM
: Everyday 9:00 AM - 2:00 PM
: Everyday 9:00 AM - 2:00 PM

: Everyday 10:00 AM - 4:00 PM
: Everyday 10:00 AM - 4:00 PM
: Everyday 10:00 AM - 4:00 PM
: Everyday 10:00 AM - 4:00 PM
: Everyday 10:00 AM - 4:00 PM
: Everyday 10:00 AM - 4:00 PM
: Everyday 10:00 AM - 4:00 PM
: Everyday 10:00 AM - 4:00 PM
: Everyday 10:00 AM - 4:00 PM
: Everyday 10:00 AM - 4:00 PM
: Everyday 10:00 AM - 4:00 PM
: Everyday 10:00 AM - 4:00 PM

: Everyday 6:30 AM - 3:00 PM
: Everyday 6:30 AM - 3:00 PM
: Everyday 6:30 AM - 3:00 PM
: Everyday 6:30 AM - 3:00 PM
: Everyday 6:30 AM - 3:00 PM
: Everyday 6:30 AM - 3:00 PM
: Everyday 6:30 AM - 3:00 PM
: Everyday 6:30 AM - 3:00 PM
: Everyday 6:30 AM - 3:00 PM
: Everyday 6:30 AM - 3:00 PM
: Everyday 6:30 AM - 3:00 PM
: Everyday 6:30 AM - 3:00 PM

: Everyday 8:30 AM - 4:30 PM
: Everyday 8:30 AM - 4:30 PM
: Everyday 8:30 AM - 4:30 PM
: Everyday 8:30 AM - 4:30 PM
: Everyday 8:30 AM - 4:30 PM
: Everyday 8:30 AM - 4:30 PM
: Everyday 8:30 AM - 4:30 PM
: Everyday 8:30 AM - 4:30 PM
: Everyday 8:30 AM - 4:30 PM
: Everyday 8:30 AM - 4:30 PM
: Everyday 8:30 AM - 4:30 PM
: Everyday 8:30 AM - 4:30 PM

: Everyday 8:00 AM - 3:00 PM
: Everyday 8:00 AM - 3:00 PM
: Everyday 8:00 AM - 3:00 PM
: Everyday 8:00 AM - 3:00 PM
: Everyday 8:00 AM - 3:00 PM
: Everyday 8:00 AM - 3:00 PM
: Everyday 8:00 AM - 3:00 PM
: Everyday 8:00 AM - 3:00 PM
: Everyday 8:00 AM - 3:00 PM
: Everyday 8:00 AM - 3:00 PM
: Everyday 8:00 AM - 3:00 PM
: Everyday 8:00 AM - 3:00 PM

: Everyday 9:30 AM - 6:00 PM
: Everyday 9:30 AM - 6:00 PM
: Everyday 9:30 AM - 6:00 PM
: Everyday 9:30 AM - 6:00 PM
: Everyday 9:30 AM - 6:00 PM
: Everyday 9:30 AM - 6:00 PM
: Everyday 9:30 AM - 6:00 PM
: Everyday 9:30 AM - 6:00 PM
: Everyday 9:30 AM - 6:00 PM
: Everyday 9:30 AM - 6:00 PM
: Everyday 9:30 AM - 6:00 PM
: Everyday 9:30 AM - 6:00 PM

: Everyday 9:30 AM - 4:30 PM
: Everyday 9:30 AM - 4:30 PM
: Everyday 9:30 AM - 4:30 PM
: Everyday 9:30 AM - 4:30 PM
: Everyday 9:30 AM - 4:30 PM
: Everyday 9:30 AM - 4:30 PM
: Everyday 9:30 AM - 4:30 PM
: Everyday 9:30 AM - 4:30 PM
: Everyday 9:30 AM - 4:30 PM
: Everyday 9:30 AM - 4:30 PM
: Everyday 9:30 AM - 4:30 PM
: Everyday 9:30 AM - 4:30 PM

: Everyday 8:00 AM - 1:00 PM
: Everyday 8:00 AM - 1:00 PM
: Everyday 8:00 AM - 1:00 PM
: Everyday 8:00 AM - 1:00 PM
: Everyday 8:00 AM - 1:00 PM
: Everyday 8:00 AM - 1:00 PM
: Everyday 8:00 AM - 1:00 PM
: Everyday 8:00 AM - 1:00 PM
: Everyday 8:00 AM - 1:00 PM
: Everyday 8:00 AM - 1:00 PM
: Everyday 8:00 AM - 1:00 PM
: Everyday 8:00 AM - 1:00 PM

: Everyday 6:30 AM - 1:00 PM; Everyday 6:30 AM - 1:00 PM | 4:00 PM - 6:00 PM
: Everyday 6:30 AM - 1:00 PM; Everyday 6:30 AM - 1:00 PM | 4:00 PM - 6:00 PM
: Everyday 6:30 AM - 1:00 PM; Everyday 6:30 AM - 1:00 PM | 4:00 PM - 6:00 PM
: Everyday 6:30 AM - 1:00 PM; Everyday 6:30 AM - 1:00 PM | 4:00 PM - 6:00 PM
: Everyday 6:30 AM - 1:00 PM; Everyday 6:30 AM - 1:00 PM | 4:00 PM - 6:00 PM
: Everyday 6:30 AM - 1:00 PM; Everyday 6:30 AM - 1:00 PM | 4:00 PM - 6:00 PM
: Everyday 6:30 AM - 1:00 PM; Everyday 6:30 AM - 1:00 PM | 4:00 PM - 6:00 PM
: Everyday 6:30 AM - 1:00 PM; Everyday 6:30 AM - 1:00 PM | 4:00 PM - 6:00 PM
: Everyday 6:30 AM - 1:00 PM; Everyday 6:30 AM - 1:00 PM | 4:00 PM - 6:00 PM
: Everyday 6:30 AM - 1:00 PM; Everyday 6:30 AM - 1:00 PM | 4:00 PM - 6:00 PM
: Everyday 6:30 AM - 1:00 PM; Everyday 6:30 AM - 1:00 PM | 4:00 PM - 6:00 PM
: Everyday 6:30 AM - 1:00 PM; Everyday 6:30 AM - 1:00 PM | 4:00 PM - 6:00 PM

: Everyday 8:30 AM - 5:00 PM
: Everyday 8:30 AM - 5:00 PM
: Everyday 8:30 AM - 5:00 PM
: Everyday 8:30 AM - 5:00 PM
: Everyday 8:30 AM - 5:00 PM
: Everyday 8:30 AM - 5:00 PM
: Everyday 8:30 AM - 5:00 PM
: Everyday 8:30 AM - 5:00 PM
: Everyday 8:30 AM - 5:00 PM
: Everyday 8:30 AM - 5:00 PM
: Everyday 8:30 AM - 5:00 PM
: Everyday 8:30 AM - 5:00 PM

: Everyday 9:30 AM - 2:00 PM
: Everyday 9:30 AM - 2:00 PM
: Everyday 9:30 AM - 2:00 PM
: Everyday 9:30 AM - 2:00 PM
: Everyday 9:30 AM - 2:00 PM
: Everyday 9:30 AM - 2:00 PM
: Everyday 9:30 AM - 2:00 PM
: Everyday 9:30 AM - 2:00 PM
: Everyday 9:30 AM - 2:00 PM
: Everyday 9:30 AM - 2:00 PM
: Everyday 9:30 AM - 2:00 PM
: Everyday 9:30 AM - 2:00 PM

: Everyday 5:30 AM - 10:00 AM
: Everyday 5:30 AM - 10:00 AM
: Everyday 5:30 AM - 10:00 AM
: Everyday 5:30 AM - 10:00 AM
: Everyday 5:30 AM - 10:00 AM
: Everyday 5:30 AM - 10:00 AM
: Everyday 5:30 AM - 10:00 AM
: Everyday 5:30 AM - 10:00 AM
: Everyday 5:30 AM - 10:00 AM
: Everyday 5:30 AM - 10:00 AM
: Everyday 5:30 AM - 10:00 AM
: Everyday 5:30 AM - 10:00 AM

: Monday to Friday 10:00 AM - 8:00 PM; Saturday, Sunday 8:30 AM - 8:00 PM
: Monday to Friday 10:00 AM - 8:00 PM; Saturday, Sunday 8:30 AM - 8:00 PM
: Monday to Friday 10:00 AM - 8:00 PM; Saturday, Sunday 8:30 AM - 8:00 PM
: Monday to Friday 10:00 AM - 8:00 PM; Saturday, Sunday 8:30 AM - 8:00 PM
: Monday to Friday 10:00 AM - 8:00 PM; Saturday, Sunday 8:30 AM - 8:00 PM
: Monday to Friday 10:00 AM - 8:00 PM; Saturday, Sunday 8:30 AM - 8:00 PM
: Monday to Friday 10:00 AM - 8:00 PM; Saturday, Sunday 8:30 AM - 8:00 PM
: Monday to Friday 10:00 AM - 8:00 PM; Saturday, Sunday 8:30 AM - 8:00 PM
: Monday to Friday 10:00 AM - 8:00 PM; Saturday, Sunday 8:30 AM - 8:00 PM
: Monday to Friday 10:00 AM - 8:00 PM; Saturday, Sunday 8:30 AM - 8:00 PM
: Monday to Friday 10:00 AM - 8:00 PM; Saturday, Sunday 8:30 AM - 8:00 PM
: Monday to Friday 10:00 AM - 8:00 PM; Saturday, Sunday 8:30 AM - 8:00 PM

: Everyday 8:00 AM - 6:30 PM
: Everyday 8:00 AM - 6:30 PM
: Everyday 8:00 AM - 6:30 PM
: Everyday 8:00 AM - 6:30 PM
: Everyday 8:00 AM - 6:30 PM
: Everyday 8:00 AM - 6:30 PM
: Everyday 8:00 AM - 6:30 PM
: Everyday 8:00 AM - 6:30 PM
: Everyday 8:00 AM - 6:30 PM
: Everyday 8:00 AM - 6:30 PM
: Everyday 8:00 AM - 6:30 PM
: Everyday 8:00 AM - 6:30 PM

: Everyday 24 Hrs
: Everyday 24 Hrs
: Everyday 24 Hrs
: Everyday 24 Hrs
: Everyday 24 Hrs
: Everyday 24 Hrs
: Everyday 24 Hrs
: Everyday 24 Hrs
: Everyday 24 Hrs
: Everyday 24 Hrs
: Everyday 24 Hrs
: Everyday 24 Hrs