Best Time To Visit Yogyakarta
Explore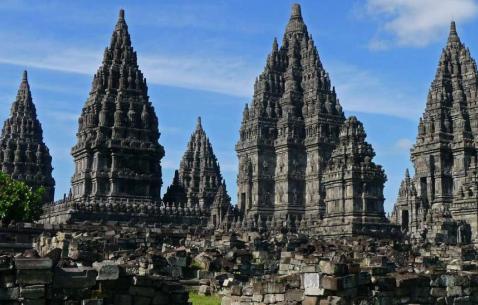 Best Time To Go To Yogyakarta
The climate in Yogyakarta can be classified as tropical wet and dry kinds with the climate being highly influenced on the monsoon. The annual average temperature is 26 degree Celsius with very little variations throughout the year.
Rainy Season: The months of November to March receive large volumes of rainfall at almost all times. The weather becomes very humid as a result of constant precipitation and the warm temperatures.
Dry Season: April to October is the dry period with the months of July and August hardly getting any rainfall. In contrast to the rest of the year, this period receives minimum amount of precipitation. The weather is warm but at least not humid, and thus is comfortable.
It is best time to visit Yogyakarta during the dry season months of April to October. Because of the low precipitation levels, it is very comfortable and convenient to sightsee outdoors without the rain playing a spoilsport. This period is also the peak season and thus expect a lot of people in all touristy spots.
Best time to go to Yogyakarta Attractions

: Everyday 6:00 AM - 11:00 AM
: Everyday 6:00 AM - 11:00 AM
: Everyday 6:00 AM - 11:00 AM
: Everyday 6:00 AM - 11:00 AM
: Everyday 6:00 AM - 11:00 AM
: Everyday 6:00 AM - 11:00 AM
: Everyday 6:00 AM - 11:00 AM
: Everyday 6:00 AM - 11:00 AM
: Everyday 6:00 AM - 11:00 AM
: Everyday 6:00 AM - 11:00 AM
: Everyday 6:00 AM - 11:00 AM
: Everyday 6:00 AM - 11:00 AM

: Everyday 8:00 AM - 1:00 PM
: Everyday 8:00 AM - 1:00 PM
: Everyday 8:00 AM - 1:00 PM
: Everyday 8:00 AM - 1:00 PM
: Everyday 8:00 AM - 1:00 PM
: Everyday 8:00 AM - 1:00 PM
: Everyday 8:00 AM - 1:00 PM
: Everyday 8:00 AM - 1:00 PM
: Everyday 8:00 AM - 1:00 PM
: Everyday 8:00 AM - 1:00 PM
: Everyday 8:00 AM - 1:00 PM
: Everyday 8:00 AM - 1:00 PM

: Everyday 24 Hrs
: Everyday 24 Hrs
: Everyday 24 Hrs
: Everyday 24 Hrs
: Everyday 24 Hrs
: Everyday 24 Hrs
: Everyday 24 Hrs
: Everyday 24 Hrs
: Everyday 24 Hrs
: Everyday 24 Hrs
: Everyday 24 Hrs
: Everyday 24 Hrs

: Everyday 6:00 AM - 8:00 PM
: Everyday 6:00 AM - 8:00 PM
: Everyday 6:00 AM - 8:00 PM
: Everyday 6:00 AM - 8:00 PM
: Everyday 6:00 AM - 8:00 PM
: Everyday 6:00 AM - 8:00 PM
: Everyday 6:00 AM - 8:00 PM
: Everyday 6:00 AM - 8:00 PM
: Everyday 6:00 AM - 8:00 PM
: Everyday 6:00 AM - 8:00 PM
: Everyday 6:00 AM - 8:00 PM
: Everyday 6:00 AM - 8:00 PM

: Everyday 3:00 PM - 6:00 PM
: Everyday 3:00 PM - 6:00 PM
: Everyday 3:00 PM - 6:00 PM
: Everyday 3:00 PM - 6:00 PM
: Everyday 3:00 PM - 6:00 PM
: Everyday 3:00 PM - 6:00 PM
: Everyday 3:00 PM - 6:00 PM
: Everyday 3:00 PM - 6:00 PM
: Everyday 3:00 PM - 6:00 PM
: Everyday 3:00 PM - 6:00 PM
: Everyday 3:00 PM - 6:00 PM
: Everyday 3:00 PM - 6:00 PM

: Tuesday to Sunday 9:00 AM - 2:00 PM
: Tuesday to Sunday 9:00 AM - 2:00 PM
: Tuesday to Sunday 9:00 AM - 2:00 PM
: Tuesday to Sunday 9:00 AM - 2:00 PM
: Tuesday to Sunday 9:00 AM - 2:00 PM
: Tuesday to Sunday 9:00 AM - 2:00 PM
: Tuesday to Sunday 9:00 AM - 2:00 PM
: Tuesday to Sunday 9:00 AM - 2:00 PM
: Tuesday to Sunday 9:00 AM - 2:00 PM
: Tuesday to Sunday 9:00 AM - 2:00 PM
: Tuesday to Sunday 9:00 AM - 2:00 PM
: Tuesday to Sunday 9:00 AM - 2:00 PM

: Everyday 7:00 AM - 2:00 PM
: Everyday 7:00 AM - 2:00 PM
: Everyday 7:00 AM - 2:00 PM
: Everyday 7:00 AM - 2:00 PM
: Everyday 7:00 AM - 2:00 PM
: Everyday 7:00 AM - 2:00 PM
: Everyday 7:00 AM - 2:00 PM
: Everyday 7:00 AM - 2:00 PM
: Everyday 7:00 AM - 2:00 PM
: Everyday 7:00 AM - 2:00 PM
: Everyday 7:00 AM - 2:00 PM
: Everyday 7:00 AM - 2:00 PM

: Everyday 8:00 AM - 1:00 PM
: Everyday 8:00 AM - 1:00 PM
: Everyday 8:00 AM - 1:00 PM
: Everyday 8:00 AM - 1:00 PM
: Everyday 8:00 AM - 1:00 PM
: Everyday 8:00 AM - 1:00 PM
: Everyday 8:00 AM - 1:00 PM
: Everyday 8:00 AM - 1:00 PM
: Everyday 8:00 AM - 1:00 PM
: Everyday 8:00 AM - 1:00 PM
: Everyday 8:00 AM - 1:00 PM
: Everyday 8:00 AM - 1:00 PM

: Everyday 7:30 PM - 10:00 PM
: Everyday 7:30 PM - 10:00 PM
: Everyday 7:30 PM - 10:00 PM
: Everyday 7:30 PM - 10:00 PM
: Everyday 7:30 PM - 10:00 PM
: Everyday 7:30 PM - 10:00 PM
: Everyday 7:30 PM - 10:00 PM
: Everyday 7:30 PM - 10:00 PM
: Everyday 7:30 PM - 10:00 PM
: Everyday 7:30 PM - 10:00 PM
: Everyday 7:30 PM - 10:00 PM
: Everyday 7:30 PM - 10:00 PM

: Everyday 10:00 AM - 3:00 PM
: Everyday 10:00 AM - 3:00 PM
: Everyday 10:00 AM - 3:00 PM
: Everyday 10:00 AM - 3:00 PM
: Everyday 10:00 AM - 3:00 PM
: Everyday 10:00 AM - 3:00 PM
: Everyday 10:00 AM - 3:00 PM
: Everyday 10:00 AM - 3:00 PM
: Everyday 10:00 AM - 3:00 PM
: Everyday 10:00 AM - 3:00 PM
: Everyday 10:00 AM - 3:00 PM
: Everyday 10:00 AM - 3:00 PM

: Everyday 9:00 AM - 6:00 PM
: Everyday 9:00 AM - 6:00 PM
: Everyday 9:00 AM - 6:00 PM
: Everyday 9:00 AM - 6:00 PM
: Everyday 9:00 AM - 6:00 PM
: Everyday 9:00 AM - 6:00 PM
: Everyday 9:00 AM - 6:00 PM
: Everyday 9:00 AM - 6:00 PM
: Everyday 9:00 AM - 6:00 PM
: Everyday 9:00 AM - 6:00 PM
: Everyday 9:00 AM - 6:00 PM
: Everyday 9:00 AM - 6:00 PM

: Tuesday to Sunday 11:00 AM - 3:00 PM
: Tuesday to Sunday 11:00 AM - 3:00 PM
: Tuesday to Sunday 11:00 AM - 3:00 PM
: Tuesday to Sunday 11:00 AM - 3:00 PM
: Tuesday to Sunday 11:00 AM - 3:00 PM
: Tuesday to Sunday 11:00 AM - 3:00 PM
: Tuesday to Sunday 11:00 AM - 3:00 PM
: Tuesday to Sunday 11:00 AM - 3:00 PM
: Tuesday to Sunday 11:00 AM - 3:00 PM
: Tuesday to Sunday 11:00 AM - 3:00 PM
: Tuesday to Sunday 11:00 AM - 3:00 PM
: Tuesday to Sunday 11:00 AM - 3:00 PM

: Everyday 11:00 AM - 2:00 PM
: Everyday 11:00 AM - 2:00 PM
: Everyday 11:00 AM - 2:00 PM
: Everyday 11:00 AM - 2:00 PM
: Everyday 11:00 AM - 2:00 PM
: Everyday 11:00 AM - 2:00 PM
: Everyday 11:00 AM - 2:00 PM
: Everyday 11:00 AM - 2:00 PM
: Everyday 11:00 AM - 2:00 PM
: Everyday 11:00 AM - 2:00 PM
: Everyday 11:00 AM - 2:00 PM
: Everyday 11:00 AM - 2:00 PM

: Everyday 8:00 AM - 1:00 PM
: Everyday 8:00 AM - 1:00 PM
: Everyday 8:00 AM - 1:00 PM
: Everyday 8:00 AM - 1:00 PM
: Everyday 8:00 AM - 1:00 PM
: Everyday 8:00 AM - 1:00 PM
: Everyday 8:00 AM - 1:00 PM
: Everyday 8:00 AM - 1:00 PM
: Everyday 8:00 AM - 1:00 PM
: Everyday 8:00 AM - 1:00 PM
: Everyday 8:00 AM - 1:00 PM
: Everyday 8:00 AM - 1:00 PM

: Monday to Saturday 10:00 AM - 4:00 PM
: Monday to Saturday 10:00 AM - 4:00 PM
: Monday to Saturday 10:00 AM - 4:00 PM
: Monday to Saturday 10:00 AM - 4:00 PM
: Monday to Saturday 10:00 AM - 4:00 PM
: Monday to Saturday 10:00 AM - 4:00 PM
: Monday to Saturday 10:00 AM - 4:00 PM
: Monday to Saturday 10:00 AM - 4:00 PM
: Monday to Saturday 10:00 AM - 4:00 PM
: Monday to Saturday 10:00 AM - 4:00 PM
: Monday to Saturday 10:00 AM - 4:00 PM
: Monday to Saturday 10:00 AM - 4:00 PM

: Friday, Sunday 10:00 AM - 3:00 PM
: Friday, Sunday 10:00 AM - 3:00 PM
: Friday, Sunday 10:00 AM - 3:00 PM
: Friday, Sunday 10:00 AM - 3:00 PM
: Friday, Sunday 10:00 AM - 3:00 PM
: Friday, Sunday 10:00 AM - 3:00 PM
: Friday, Sunday 10:00 AM - 3:00 PM
: Friday, Sunday 10:00 AM - 3:00 PM
: Friday, Sunday 10:00 AM - 3:00 PM
: Friday, Sunday 10:00 AM - 3:00 PM
: Friday, Sunday 10:00 AM - 3:00 PM
: Friday, Sunday 10:00 AM - 3:00 PM

: Monday, Tuesday, Wednesday, Thursday, Saturday, Sunday 8:00 AM - 3:00 PM
: Monday, Tuesday, Wednesday, Thursday, Saturday, Sunday 8:00 AM - 3:00 PM
: Monday, Tuesday, Wednesday, Thursday, Saturday, Sunday 8:00 AM - 3:00 PM
: Monday, Tuesday, Wednesday, Thursday, Saturday, Sunday 8:00 AM - 3:00 PM
: Monday, Tuesday, Wednesday, Thursday, Saturday, Sunday 8:00 AM - 3:00 PM
: Monday, Tuesday, Wednesday, Thursday, Saturday, Sunday 8:00 AM - 3:00 PM
: Monday, Tuesday, Wednesday, Thursday, Saturday, Sunday 8:00 AM - 3:00 PM
: Monday, Tuesday, Wednesday, Thursday, Saturday, Sunday 8:00 AM - 3:00 PM
: Monday, Tuesday, Wednesday, Thursday, Saturday, Sunday 8:00 AM - 3:00 PM
: Monday, Tuesday, Wednesday, Thursday, Saturday, Sunday 8:00 AM - 3:00 PM
: Monday, Tuesday, Wednesday, Thursday, Saturday, Sunday 8:00 AM - 3:00 PM
: Monday, Tuesday, Wednesday, Thursday, Saturday, Sunday 8:00 AM - 3:00 PM