Best Time To Visit Zhangjiajie
Explore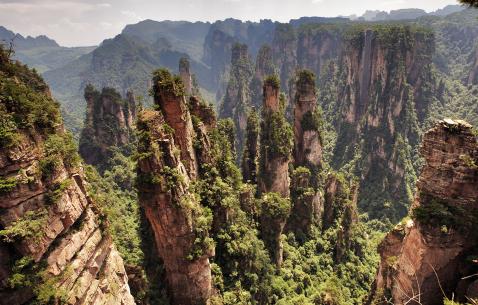 Best Time To Go To Zhangjiajie
Zhangjiajie experiences mid-latitude weather and the temperatures rarely exceed 35 degree Celsius and rarely drop below 0 degree Celsius.
Mid-November to mid-March : Winter season, chilly and occasional snowing. December to February is not an ideal time to visit Zhangjiajie.
Mid-March to June : Rainy season, foggy weather which is also not a good time to visit and is generally off season.
July and August : Summer; Holiday season in China, is the peak season where the visitors would find large crowds.
September and October : Perfect weather and the best time to visit Zhangjiajie.
Although May to October is a best time to visit Zhangjiajie. Also the Zhangjiajie travel guide recommends avoiding the Chinese holiday season.
Best time to go to Zhangjiajie Attractions

: Everyday 7:00 AM -
: Everyday 7:00 AM -
: Everyday 7:00 AM -
: Everyday 7:00 AM -
: Everyday 7:00 AM -
: Everyday 7:00 AM -
: Everyday 7:00 AM -
: Everyday 7:00 AM -
: Everyday 7:00 AM -
: Everyday 7:00 AM -
: Everyday 7:00 AM -
: Everyday 7:00 AM -

: Everyday 7:30 AM - 6:00 PM
: Everyday 7:30 AM - 6:00 PM
: Everyday 7:30 AM - 6:00 PM
: Everyday 7:30 AM - 6:00 PM
: Everyday 7:30 AM - 6:00 PM
: Everyday 7:30 AM - 6:00 PM
: Everyday 7:30 AM - 6:00 PM
: Everyday 7:30 AM - 6:00 PM
: Everyday 7:30 AM - 6:00 PM
: Everyday 7:30 AM - 6:00 PM
: Everyday 7:30 AM - 6:00 PM
: Everyday 7:30 AM - 6:00 PM

: Everyday 8:00 AM - 10:00 AM
: Everyday 8:00 AM - 10:00 AM
: Everyday 8:00 AM - 10:00 AM
: Everyday 8:00 AM - 10:00 AM
: Everyday 8:00 AM - 10:00 AM
: Everyday 8:00 AM - 10:00 AM
: Everyday 8:00 AM - 10:00 AM
: Everyday 8:00 AM - 10:00 AM
: Everyday 8:00 AM - 10:00 AM
: Everyday 8:00 AM - 10:00 AM
: Everyday 8:00 AM - 10:00 AM
: Everyday 8:00 AM - 10:00 AM

: Everyday 8:00 AM - 3:00 PM
: Everyday 8:00 AM - 3:00 PM
: Everyday 8:00 AM - 3:00 PM
: Everyday 8:00 AM - 3:00 PM
: Everyday 8:00 AM - 3:00 PM
: Everyday 8:00 AM - 3:00 PM
: Everyday 8:00 AM - 3:00 PM
: Everyday 8:00 AM - 3:00 PM
: Everyday 8:00 AM - 3:00 PM
: Everyday 8:00 AM - 3:00 PM
: Everyday 8:00 AM - 3:00 PM
: Everyday 8:00 AM - 3:00 PM

: Everyday 8:00 AM - 2:00 PM
: Everyday 8:00 AM - 2:00 PM
: Everyday 8:00 AM - 2:00 PM
: Everyday 8:00 AM - 2:00 PM
: Everyday 8:00 AM - 2:00 PM
: Everyday 8:00 AM - 2:00 PM
: Everyday 8:00 AM - 2:00 PM
: Everyday 8:00 AM - 2:00 PM
: Everyday 8:00 AM - 2:00 PM
: Everyday 8:00 AM - 2:00 PM
: Everyday 8:00 AM - 2:00 PM
: Everyday 8:00 AM - 2:00 PM

: Everyday 7:00 AM - 1:00 PM
: Everyday 7:00 AM - 1:00 PM
: Everyday 7:00 AM - 1:00 PM
: Everyday 7:00 AM - 1:00 PM
: Everyday 7:00 AM - 1:00 PM
: Everyday 7:00 AM - 1:00 PM
: Everyday 7:00 AM - 1:00 PM
: Everyday 7:00 AM - 1:00 PM
: Everyday 7:00 AM - 1:00 PM
: Everyday 7:00 AM - 1:00 PM
: Everyday 7:00 AM - 1:00 PM
: Everyday 7:00 AM - 1:00 PM

: Everyday 9:00 AM - 3:00 PM
: Everyday 9:00 AM - 3:00 PM
: Everyday 9:00 AM - 3:00 PM
: Everyday 9:00 AM - 3:00 PM
: Everyday 9:00 AM - 3:00 PM
: Everyday 9:00 AM - 3:00 PM
: Everyday 9:00 AM - 3:00 PM
: Everyday 9:00 AM - 3:00 PM
: Everyday 9:00 AM - 3:00 PM
: Everyday 9:00 AM - 3:00 PM
: Everyday 9:00 AM - 3:00 PM
: Everyday 9:00 AM - 3:00 PM

: Everyday 8:00 AM - 11:00 AM
: Everyday 8:00 AM - 11:00 AM
: Everyday 8:00 AM - 11:00 AM
: Everyday 8:00 AM - 11:00 AM
: Everyday 8:00 AM - 11:00 AM
: Everyday 8:00 AM - 11:00 AM
: Everyday 8:00 AM - 11:00 AM
: Everyday 8:00 AM - 11:00 AM
: Everyday 8:00 AM - 11:00 AM
: Everyday 8:00 AM - 11:00 AM
: Everyday 8:00 AM - 11:00 AM
: Everyday 8:00 AM - 11:00 AM

: Everyday 7:30 AM - 5:00 PM
: Everyday 7:30 AM - 5:00 PM
: Everyday 7:30 AM - 5:00 PM
: Everyday 7:30 AM - 5:00 PM
: Everyday 7:30 AM - 5:00 PM
: Everyday 7:30 AM - 5:00 PM
: Everyday 7:30 AM - 5:00 PM
: Everyday 7:30 AM - 5:00 PM
: Everyday 7:30 AM - 5:00 PM
: Everyday 7:30 AM - 5:00 PM
: Everyday 7:30 AM - 5:00 PM
: Everyday 7:30 AM - 5:00 PM

: Everyday 7:30 AM - 4:00 PM
: Everyday 7:30 AM - 4:00 PM
: Everyday 7:30 AM - 4:00 PM
: Everyday 7:30 AM - 4:00 PM
: Everyday 7:30 AM - 4:00 PM
: Everyday 7:30 AM - 4:00 PM
: Everyday 7:30 AM - 4:00 PM
: Everyday 7:30 AM - 4:00 PM
: Everyday 7:30 AM - 4:00 PM
: Everyday 7:30 AM - 4:00 PM
: Everyday 7:30 AM - 4:00 PM
: Everyday 7:30 AM - 4:00 PM

: Everyday 9:00 AM - 2:00 PM
: Everyday 9:00 AM - 2:00 PM
: Everyday 9:00 AM - 2:00 PM
: Everyday 9:00 AM - 2:00 PM
: Everyday 9:00 AM - 2:00 PM
: Everyday 9:00 AM - 2:00 PM
: Everyday 9:00 AM - 2:00 PM
: Everyday 9:00 AM - 2:00 PM
: Everyday 9:00 AM - 2:00 PM
: Everyday 9:00 AM - 2:00 PM
: Everyday 9:00 AM - 2:00 PM
: Everyday 9:00 AM - 2:00 PM

: Everyday 7:00 AM - 2:00 PM
: Everyday 7:00 AM - 2:00 PM
: Everyday 7:00 AM - 2:00 PM
: Everyday 7:00 AM - 2:00 PM
: Everyday 7:00 AM - 2:00 PM
: Everyday 7:00 AM - 2:00 PM
: Everyday 7:00 AM - 2:00 PM
: Everyday 7:00 AM - 2:00 PM
: Everyday 7:00 AM - 2:00 PM
: Everyday 7:00 AM - 2:00 PM
: Everyday 7:00 AM - 2:00 PM
: Everyday 7:00 AM - 2:00 PM

: Everyday 7:00 PM - 7:30 PM
: Everyday 7:00 PM - 7:30 PM
: Everyday 7:00 PM - 7:30 PM
: Everyday 7:00 PM - 7:30 PM
: Everyday 7:00 PM - 7:30 PM
: Everyday 7:00 PM - 7:30 PM
: Everyday 7:00 PM - 7:30 PM
: Everyday 7:00 PM - 7:30 PM
: Everyday 7:00 PM - 7:30 PM
: Everyday 7:00 PM - 7:30 PM
: Everyday 7:00 PM - 7:30 PM
: Everyday 7:00 PM - 7:30 PM

: Everyday 8:00 AM - 1:00 PM
: Everyday 8:00 AM - 1:00 PM
: Everyday 8:00 AM - 1:00 PM
: Everyday 8:00 AM - 1:00 PM
: Everyday 8:00 AM - 1:00 PM
: Everyday 8:00 AM - 1:00 PM
: Everyday 8:00 AM - 1:00 PM
: Everyday 8:00 AM - 1:00 PM
: Everyday 8:00 AM - 1:00 PM
: Everyday 8:00 AM - 1:00 PM
: Everyday 8:00 AM - 1:00 PM
: Everyday 8:00 AM - 1:00 PM

: Everyday 8:00 AM - 2:00 PM
: Everyday 8:00 AM - 2:00 PM
: Everyday 8:00 AM - 2:00 PM
: Everyday 8:00 AM - 2:00 PM
: Everyday 8:00 AM - 2:00 PM
: Everyday 8:00 AM - 2:00 PM
: Everyday 8:00 AM - 2:00 PM
: Everyday 8:00 AM - 2:00 PM
: Everyday 8:00 AM - 2:00 PM
: Everyday 8:00 AM - 2:00 PM
: Everyday 8:00 AM - 2:00 PM
: Everyday 8:00 AM - 2:00 PM

: Everyday 7:00 AM - 11:00 AM
: Everyday 7:00 AM - 11:00 AM
: Everyday 7:00 AM - 11:00 AM
: Everyday 7:00 AM - 11:00 AM
: Everyday 7:00 AM - 11:00 AM
: Everyday 7:00 AM - 11:00 AM
: Everyday 7:00 AM - 11:00 AM
: Everyday 7:00 AM - 11:00 AM
: Everyday 7:00 AM - 11:00 AM
: Everyday 7:00 AM - 11:00 AM
: Everyday 7:00 AM - 11:00 AM
: Everyday 7:00 AM - 11:00 AM

: Everyday 7:00 AM - 2:00 PM
: Everyday 7:00 AM - 2:00 PM
: Everyday 7:00 AM - 2:00 PM
: Everyday 7:00 AM - 2:00 PM
: Everyday 7:00 AM - 2:00 PM
: Everyday 7:00 AM - 2:00 PM
: Everyday 7:00 AM - 2:00 PM
: Everyday 7:00 AM - 2:00 PM
: Everyday 7:00 AM - 2:00 PM
: Everyday 7:00 AM - 2:00 PM
: Everyday 7:00 AM - 2:00 PM
: Everyday 7:00 AM - 2:00 PM

: Everyday 11:00 AM - 3:00 PM
: Everyday 11:00 AM - 3:00 PM
: Everyday 11:00 AM - 3:00 PM
: Everyday 11:00 AM - 3:00 PM
: Everyday 11:00 AM - 3:00 PM
: Everyday 11:00 AM - 3:00 PM
: Everyday 11:00 AM - 3:00 PM
: Everyday 11:00 AM - 3:00 PM
: Everyday 11:00 AM - 3:00 PM
: Everyday 11:00 AM - 3:00 PM
: Everyday 11:00 AM - 3:00 PM
: Everyday 11:00 AM - 3:00 PM