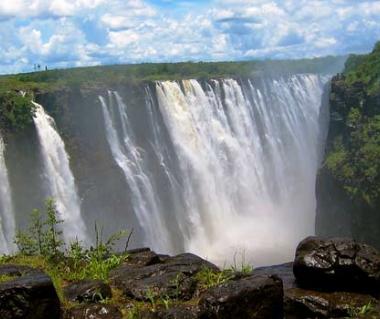 Zimbabwe Trip Planner
Plan your customized trip plan for Zimbabwe. Choose from Top Toursim cities and tourist attarctions of Zimbabwe using trip planner.
Zimbabwe Overview
Close your eyes and try to imagine a vast African river gurgling its way peacefully through a pristine tropical rainforest…only to be suddenly met by an edge that sends it plunging one hundred and twenty eight meters into a gorge. This heart-stopping drop is the world-famous Victoria Falls and its natural drama takes place right here in Zimbabwe, at the rate of five million liters of water every minute. However, Zimbabwe is not simply a tourist economy built around the Legend of the fall.It has a beautiful and diverse landscape, cosmopolitan cities buzzing with the arts and culture, exotic wildlife teeming in its game parks and some very friendly folk indeed.
How to enter :-
Air:-The cheapest flights between Europe and Harare are allegedly through Sofia, but you can find reasonably good deals from London. There are also connections from Sydney and Perth, Australia, to Harare once a week. Travelers from North America will be best off flying through Jo'burg. From southern Africa, frequent services operate between Johannesburg, South Africa, and Harare and Bulawayo in Zimbabwe.
Rail: - There are two trains to Zimbabwe from South Africa – the Trans-Limpopo Express from Johannesburg to Harare and the weekly Bulawayo Express from Bulawayo to Johannesburg. The rail link via Beitbridge is also used.
Climate and best time to visit : -
Zimbabwe is blessed with very agreeable climate despite its location bang in the middle of the tropical zone. The rainy season lasts from November to March. The best months to visit are April to May and August to September. The reason most people visit Zimbabwe is for the game parks, which are best visited in the dry winter season, since animals congregate around waterholes and make easy viewing.
What to see : -
No traveler would visit Zimbabwe without a good soak at the Victoria Falls. This wonder is created when the mile-long edge of the Zambezi gorge sends 5 million liters of water thundering and plunging headlong into a chasm of white foam 128 meters below. The main 'good buys' in this artistically well-endowed country are of course handicrafts - copper, wooden & soapstone carvings, game skin & leather products, pottery & basketwork. There is a good selection of outdoor activities in Zimbabwe including water sports like kayaking, sailing, canoeing and fishing.
Searching for something specific?