Best Time To Visit Zion National Park
Explore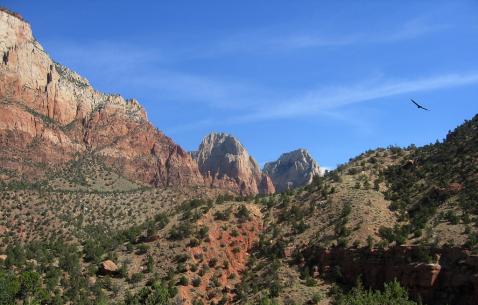 Best Time To Go To Zion National Park
The best time to visit Zion National Park is from April to October. The best seasons to visit Zion National Park are Spring and Summer.
Spring: Zion National Park experiences spring time from April to June. The weather is warm and sometimes humid, and it gets cooler during morning and evening. This is the peak season to visit the park with wildflowers blooming and transforming the arid landscape into a place of wonder.
Summer: Summer at Zion National Park lasts from July to September. This is also a peak season to visit the park. The temperature changes can be a little drastic during the day, so be prepared accordingly. The park also experiences rainfall during this time.
Fall: Fall season is from October to November at Zion National Park. The weather gets cooler and drier during this time, and the park is covered in fall colours along the trails. While it is a pretty good time to visit the park, there could be chances of being caught in sudden flashfloods.
Winter: Winters go on at Zion National Park from December to March. The weather gets cold and wet during this time and it is generally considered an off season for the park. Most of the trails are closed during this time, as they are generally snowed in.
Best time to go to Zion National Park Attractions

: Everyday 7:00 AM - 2:00 PM
: Everyday 7:00 AM - 2:00 PM
: Everyday 7:00 AM - 2:00 PM
: Everyday 7:00 AM - 2:00 PM
: Everyday 7:00 AM - 2:00 PM
: Everyday 7:00 AM - 2:00 PM
: Everyday 7:00 AM - 2:00 PM
: Everyday 7:00 AM - 2:00 PM
: Everyday 7:00 AM - 2:00 PM
: Everyday 7:00 AM - 2:00 PM
: Everyday 7:00 AM - 2:00 PM
: Everyday 7:00 AM - 2:00 PM

: Everyday 7:00 AM - 1:00 PM
: Everyday 7:00 AM - 1:00 PM
: Everyday 7:00 AM - 1:00 PM
: Everyday 7:00 AM - 1:00 PM
: Everyday 7:00 AM - 1:00 PM
: Everyday 7:00 AM - 1:00 PM
: Everyday 7:00 AM - 1:00 PM
: Everyday 7:00 AM - 1:00 PM
: Everyday 7:00 AM - 1:00 PM
: Everyday 7:00 AM - 1:00 PM
: Everyday 7:00 AM - 1:00 PM
: Everyday 7:00 AM - 1:00 PM

: Everyday 10:00 AM - 5:00 PM
: Everyday 10:00 AM - 5:00 PM
: Everyday 10:00 AM - 5:00 PM
: Everyday 10:00 AM - 5:00 PM
: Everyday 10:00 AM - 5:00 PM
: Everyday 10:00 AM - 5:00 PM
: Everyday 10:00 AM - 5:00 PM
: Everyday 10:00 AM - 5:00 PM
: Everyday 10:00 AM - 5:00 PM
: Everyday 10:00 AM - 5:00 PM
: Everyday 10:00 AM - 5:00 PM
: Everyday 10:00 AM - 5:00 PM

: Everyday 7:00 AM - 9:00 AM
: Everyday 7:00 AM - 9:00 AM
: Everyday 7:00 AM - 9:00 AM
: Everyday 7:00 AM - 9:00 AM
: Everyday 7:00 AM - 9:00 AM
: Everyday 7:00 AM - 9:00 AM
: Everyday 7:00 AM - 9:00 AM
: Everyday 7:00 AM - 9:00 AM
: Everyday 7:00 AM - 9:00 AM
: Everyday 7:00 AM - 9:00 AM
: Everyday 7:00 AM - 9:00 AM
: Everyday 7:00 AM - 9:00 AM

: Everyday 7:00 AM - 2:00 PM
: Everyday 7:00 AM - 2:00 PM
: Everyday 7:00 AM - 2:00 PM
: Everyday 7:00 AM - 2:00 PM
: Everyday 7:00 AM - 2:00 PM
: Everyday 7:00 AM - 2:00 PM
: Everyday 7:00 AM - 2:00 PM
: Everyday 7:00 AM - 2:00 PM
: Everyday 7:00 AM - 2:00 PM
: Everyday 7:00 AM - 2:00 PM
: Everyday 7:00 AM - 2:00 PM
: Everyday 7:00 AM - 2:00 PM

: Everyday 7:00 AM - 5:00 PM
: Everyday 7:00 AM - 5:00 PM
: Everyday 7:00 AM - 5:00 PM
: Everyday 7:00 AM - 5:00 PM
: Everyday 7:00 AM - 5:00 PM
: Everyday 7:00 AM - 5:00 PM
: Everyday 7:00 AM - 5:00 PM
: Everyday 7:00 AM - 5:00 PM
: Everyday 7:00 AM - 5:00 PM
: Everyday 7:00 AM - 5:00 PM
: Everyday 7:00 AM - 5:00 PM
: Everyday 7:00 AM - 5:00 PM

: Everyday 6:00 AM - 1:00 PM
: Everyday 6:00 AM - 1:00 PM
: Everyday 6:00 AM - 1:00 PM
: Everyday 6:00 AM - 1:00 PM
: Everyday 6:00 AM - 1:00 PM
: Everyday 6:00 AM - 1:00 PM
: Everyday 6:00 AM - 1:00 PM
: Everyday 6:00 AM - 1:00 PM
: Everyday 6:00 AM - 1:00 PM
: Everyday 6:00 AM - 1:00 PM
: Everyday 6:00 AM - 1:00 PM
: Everyday 6:00 AM - 1:00 PM

: Everyday 7:00 AM - 5:00 PM
: Everyday 7:00 AM - 5:00 PM
: Everyday 7:00 AM - 5:00 PM
: Everyday 7:00 AM - 5:00 PM
: Everyday 7:00 AM - 5:00 PM
: Everyday 7:00 AM - 5:00 PM
: Everyday 7:00 AM - 5:00 PM
: Everyday 7:00 AM - 5:00 PM
: Everyday 7:00 AM - 5:00 PM
: Everyday 7:00 AM - 5:00 PM
: Everyday 7:00 AM - 5:00 PM
: Everyday 7:00 AM - 5:00 PM

: Everyday 8:00 AM - 4:00 PM
: Everyday 8:00 AM - 4:00 PM
: Everyday 8:00 AM - 4:00 PM
: Everyday 8:00 AM - 4:00 PM
: Everyday 8:00 AM - 4:00 PM
: Everyday 8:00 AM - 4:00 PM
: Everyday 8:00 AM - 4:00 PM
: Everyday 8:00 AM - 4:00 PM
: Everyday 8:00 AM - 4:00 PM
: Everyday 8:00 AM - 4:00 PM
: Everyday 8:00 AM - 4:00 PM
: Everyday 8:00 AM - 4:00 PM

: Everyday 9:00 AM - 3:00 PM
: Everyday 9:00 AM - 3:00 PM
: Everyday 9:00 AM - 3:00 PM
: Everyday 9:00 AM - 3:00 PM
: Everyday 9:00 AM - 3:00 PM
: Everyday 9:00 AM - 3:00 PM
: Everyday 9:00 AM - 3:00 PM
: Everyday 9:00 AM - 3:00 PM
: Everyday 9:00 AM - 3:00 PM
: Everyday 9:00 AM - 3:00 PM
: Everyday 9:00 AM - 3:00 PM
: Everyday 9:00 AM - 3:00 PM

: Everyday 7:00 AM - 3:00 PM
: Everyday 7:00 AM - 3:00 PM
: Everyday 7:00 AM - 3:00 PM
: Everyday 7:00 AM - 3:00 PM
: Everyday 7:00 AM - 3:00 PM
: Everyday 7:00 AM - 3:00 PM
: Everyday 7:00 AM - 3:00 PM
: Everyday 7:00 AM - 3:00 PM
: Everyday 7:00 AM - 3:00 PM
: Everyday 7:00 AM - 3:00 PM
: Everyday 7:00 AM - 3:00 PM
: Everyday 7:00 AM - 3:00 PM

: Everyday 9:00 AM - 1:00 PM
: Everyday 9:00 AM - 1:00 PM
: Everyday 9:00 AM - 1:00 PM
: Everyday 9:00 AM - 1:00 PM
: Everyday 9:00 AM - 1:00 PM
: Everyday 9:00 AM - 1:00 PM
: Everyday 9:00 AM - 1:00 PM
: Everyday 9:00 AM - 1:00 PM
: Everyday 9:00 AM - 1:00 PM
: Everyday 9:00 AM - 1:00 PM
: Everyday 9:00 AM - 1:00 PM
: Everyday 9:00 AM - 1:00 PM

: Everyday 9:00 AM - 1:00 PM
: Everyday 9:00 AM - 1:00 PM
: Everyday 9:00 AM - 1:00 PM
: Everyday 9:00 AM - 1:00 PM
: Everyday 9:00 AM - 1:00 PM
: Everyday 9:00 AM - 1:00 PM
: Everyday 9:00 AM - 1:00 PM
: Everyday 9:00 AM - 1:00 PM
: Everyday 9:00 AM - 1:00 PM
: Everyday 9:00 AM - 1:00 PM
: Everyday 9:00 AM - 1:00 PM
: Everyday 9:00 AM - 1:00 PM

: Everyday 9:00 AM - 11:00 AM
: Everyday 9:00 AM - 11:00 AM
: Everyday 9:00 AM - 11:00 AM
: Everyday 9:00 AM - 11:00 AM
: Everyday 9:00 AM - 11:00 AM
: Everyday 9:00 AM - 11:00 AM
: Everyday 9:00 AM - 11:00 AM
: Everyday 9:00 AM - 11:00 AM
: Everyday 9:00 AM - 11:00 AM
: Everyday 9:00 AM - 11:00 AM
: Everyday 9:00 AM - 11:00 AM
: Everyday 9:00 AM - 11:00 AM

: Everyday 9:00 AM - 1:00 PM
: Everyday 9:00 AM - 1:00 PM
: Everyday 9:00 AM - 1:00 PM
: Everyday 9:00 AM - 1:00 PM
: Everyday 9:00 AM - 1:00 PM
: Everyday 9:00 AM - 1:00 PM
: Everyday 9:00 AM - 1:00 PM
: Everyday 9:00 AM - 1:00 PM
: Everyday 9:00 AM - 1:00 PM
: Everyday 9:00 AM - 1:00 PM
: Everyday 9:00 AM - 1:00 PM
: Everyday 9:00 AM - 1:00 PM

: Everyday 7:00 AM - 9:00 AM
: Everyday 7:00 AM - 9:00 AM
: Everyday 7:00 AM - 9:00 AM
: Everyday 7:00 AM - 9:00 AM
: Everyday 7:00 AM - 9:00 AM
: Everyday 7:00 AM - 9:00 AM
: Everyday 7:00 AM - 9:00 AM
: Everyday 7:00 AM - 9:00 AM
: Everyday 7:00 AM - 9:00 AM
: Everyday 7:00 AM - 9:00 AM
: Everyday 7:00 AM - 9:00 AM
: Everyday 7:00 AM - 9:00 AM

: Everyday 7:00 AM - 1:00 PM
: Everyday 7:00 AM - 1:00 PM
: Everyday 7:00 AM - 1:00 PM
: Everyday 7:00 AM - 1:00 PM
: Everyday 7:00 AM - 1:00 PM
: Everyday 7:00 AM - 1:00 PM
: Everyday 7:00 AM - 1:00 PM
: Everyday 7:00 AM - 1:00 PM
: Everyday 7:00 AM - 1:00 PM
: Everyday 7:00 AM - 1:00 PM
: Everyday 7:00 AM - 1:00 PM
: Everyday 7:00 AM - 1:00 PM

: Everyday 9:00 AM - 10:00 AM
: Everyday 9:00 AM - 10:00 AM
: Everyday 9:00 AM - 10:00 AM
: Everyday 9:00 AM - 10:00 AM
: Everyday 9:00 AM - 10:00 AM
: Everyday 9:00 AM - 10:00 AM
: Everyday 9:00 AM - 10:00 AM
: Everyday 9:00 AM - 10:00 AM
: Everyday 9:00 AM - 10:00 AM
: Everyday 9:00 AM - 10:00 AM
: Everyday 9:00 AM - 10:00 AM
: Everyday 9:00 AM - 10:00 AM

: Everyday 9:00 AM - 10:00 AM
: Everyday 9:00 AM - 10:00 AM
: Everyday 9:00 AM - 10:00 AM
: Everyday 9:00 AM - 10:00 AM
: Everyday 9:00 AM - 10:00 AM
: Everyday 9:00 AM - 10:00 AM
: Everyday 9:00 AM - 10:00 AM
: Everyday 9:00 AM - 10:00 AM
: Everyday 9:00 AM - 10:00 AM
: Everyday 9:00 AM - 10:00 AM
: Everyday 9:00 AM - 10:00 AM
: Everyday 9:00 AM - 10:00 AM

: Everyday 7:00 AM - 9:00 AM
: Everyday 7:00 AM - 9:00 AM
: Everyday 7:00 AM - 9:00 AM
: Everyday 7:00 AM - 9:00 AM
: Everyday 7:00 AM - 9:00 AM
: Everyday 7:00 AM - 9:00 AM
: Everyday 7:00 AM - 9:00 AM
: Everyday 7:00 AM - 9:00 AM
: Everyday 7:00 AM - 9:00 AM
: Everyday 7:00 AM - 9:00 AM
: Everyday 7:00 AM - 9:00 AM
: Everyday 7:00 AM - 9:00 AM

: Everyday 9:00 AM - 10:00 AM
: Everyday 9:00 AM - 10:00 AM
: Everyday 9:00 AM - 10:00 AM
: Everyday 9:00 AM - 10:00 AM
: Everyday 9:00 AM - 10:00 AM
: Everyday 9:00 AM - 10:00 AM
: Everyday 9:00 AM - 10:00 AM
: Everyday 9:00 AM - 10:00 AM
: Everyday 9:00 AM - 10:00 AM
: Everyday 9:00 AM - 10:00 AM
: Everyday 9:00 AM - 10:00 AM
: Everyday 9:00 AM - 10:00 AM

: Everyday 7:00 AM - 8:00 AM
: Everyday 7:00 AM - 8:00 AM
: Everyday 7:00 AM - 8:00 AM
: Everyday 7:00 AM - 8:00 AM
: Everyday 7:00 AM - 8:00 AM
: Everyday 7:00 AM - 8:00 AM
: Everyday 7:00 AM - 8:00 AM
: Everyday 7:00 AM - 8:00 AM
: Everyday 7:00 AM - 8:00 AM
: Everyday 7:00 AM - 8:00 AM
: Everyday 7:00 AM - 8:00 AM
: Everyday 7:00 AM - 8:00 AM

: Everyday 8:00 AM - 9:00 AM
: Everyday 8:00 AM - 9:00 AM
: Everyday 8:00 AM - 9:00 AM
: Everyday 8:00 AM - 9:00 AM
: Everyday 8:00 AM - 9:00 AM
: Everyday 8:00 AM - 9:00 AM
: Everyday 8:00 AM - 9:00 AM
: Everyday 8:00 AM - 9:00 AM
: Everyday 8:00 AM - 9:00 AM
: Everyday 8:00 AM - 9:00 AM
: Everyday 8:00 AM - 9:00 AM
: Everyday 8:00 AM - 9:00 AM

: Everyday 8:00 AM - 9:00 AM
: Everyday 8:00 AM - 9:00 AM
: Everyday 8:00 AM - 9:00 AM
: Everyday 8:00 AM - 9:00 AM
: Everyday 8:00 AM - 9:00 AM
: Everyday 8:00 AM - 9:00 AM
: Everyday 8:00 AM - 9:00 AM
: Everyday 8:00 AM - 9:00 AM
: Everyday 8:00 AM - 9:00 AM
: Everyday 8:00 AM - 9:00 AM
: Everyday 8:00 AM - 9:00 AM
: Everyday 8:00 AM - 9:00 AM

: Everyday 8:00 AM - 9:00 AM
: Everyday 8:00 AM - 9:00 AM
: Everyday 8:00 AM - 9:00 AM
: Everyday 8:00 AM - 9:00 AM
: Everyday 8:00 AM - 9:00 AM
: Everyday 8:00 AM - 9:00 AM
: Everyday 8:00 AM - 9:00 AM
: Everyday 8:00 AM - 9:00 AM
: Everyday 8:00 AM - 9:00 AM
: Everyday 8:00 AM - 9:00 AM
: Everyday 8:00 AM - 9:00 AM
: Everyday 8:00 AM - 9:00 AM

: Everyday 8:00 AM - 9:00 AM
: Everyday 8:00 AM - 9:00 AM
: Everyday 8:00 AM - 9:00 AM
: Everyday 8:00 AM - 9:00 AM
: Everyday 8:00 AM - 9:00 AM
: Everyday 8:00 AM - 9:00 AM
: Everyday 8:00 AM - 9:00 AM
: Everyday 8:00 AM - 9:00 AM
: Everyday 8:00 AM - 9:00 AM
: Everyday 8:00 AM - 9:00 AM
: Everyday 8:00 AM - 9:00 AM
: Everyday 8:00 AM - 9:00 AM

: Everyday 8:00 AM - 9:00 AM
: Everyday 8:00 AM - 9:00 AM
: Everyday 8:00 AM - 9:00 AM
: Everyday 8:00 AM - 9:00 AM
: Everyday 8:00 AM - 9:00 AM
: Everyday 8:00 AM - 9:00 AM
: Everyday 8:00 AM - 9:00 AM
: Everyday 8:00 AM - 9:00 AM
: Everyday 8:00 AM - 9:00 AM
: Everyday 8:00 AM - 9:00 AM
: Everyday 8:00 AM - 9:00 AM
: Everyday 8:00 AM - 9:00 AM

: Everyday 8:00 AM - 9:00 AM
: Everyday 8:00 AM - 9:00 AM
: Everyday 8:00 AM - 9:00 AM
: Everyday 8:00 AM - 9:00 AM
: Everyday 8:00 AM - 9:00 AM
: Everyday 8:00 AM - 9:00 AM
: Everyday 8:00 AM - 9:00 AM
: Everyday 8:00 AM - 9:00 AM
: Everyday 8:00 AM - 9:00 AM
: Everyday 8:00 AM - 9:00 AM
: Everyday 8:00 AM - 9:00 AM
: Everyday 8:00 AM - 9:00 AM

: Everyday 8:00 AM - 9:00 AM
: Everyday 8:00 AM - 9:00 AM
: Everyday 8:00 AM - 9:00 AM
: Everyday 8:00 AM - 9:00 AM
: Everyday 8:00 AM - 9:00 AM
: Everyday 8:00 AM - 9:00 AM
: Everyday 8:00 AM - 9:00 AM
: Everyday 8:00 AM - 9:00 AM
: Everyday 8:00 AM - 9:00 AM
: Everyday 8:00 AM - 9:00 AM
: Everyday 8:00 AM - 9:00 AM
: Everyday 8:00 AM - 9:00 AM